NVIDIA introduced the 680i chipset back in early November with eager anticipation from users looking to try something different within the Intel chipset world. There was a lot of hype, fanfare, and a great deal of media coverage that surrounded the launch of the NVIDIA 600i family of chipsets. We reviewed the
680i chipset
in-depth at launch and came away very impressed with its capabilities for the upper-end enthusiast. Since the launch, most of the focus surrounding the 680i chipset changed from its impressive performance and flexibility to issues that seemed to plague the reference board designs from the launch partners such as EVGA and BFG. These issues revolved around audio issues when using SLI and data corruption or performance loss when utilizing SATA drives on the reference boards. The audio issues were solved with a quick BIOS update although we found in our testing that loading the Microsoft DX9 October update before the audio drivers also solved the issue. The data corruption on drives was an entirely different issue that seemed to be centered on users with RAID arrays but also spread to single drive users under varying circumstances.
A
revised BIOS
was introduced this past week that has apparently cured the majority of data corruption issues with the reference boards - an issue we did not witness in our testing of the ASUS 680i motherboards or with our own EVGA motherboards. While NVIDIA attributes the problems to signal timings on the motherboard, we are still investigating NVIDIA's claims about why the issue occurs on one board and not the other. NVIDIA has commented that statistical variations in the electrical paths between each board can vary and result in one board being affected and another one not. We know from the board manufacturers that this chipset is very sensitive to electrical noise and is one of the main reasons why a specific set of voltages is required to reach the upper overclock limits of the board. This specific set of voltage settings seem to differ from board to board and our initial opinion about this issue is based upon us having a "tolerant" MCP/SPP combination on our review boards.
We are about finished with our testing of several 680i boards and will have a full review up in the near future but at this time we are glad NVIDIA has come up with a fix. At the same time, these types of problems are not something people want to see in a top-end enthusiast chipset, and a bit more testing and validation in the future before launch might be a better solution than BIOS patches after the fact.
Since our first look at the 680i chipset we along with our readers have wondered when the lower priced 650i family of chipsets would arrive and more importantly how they would perform. ASUS is first to market with the NVIDIA 650i SLI chipset and we will see other manufacturers utilizing this chipset in January. The base 650i Ultra boards should be arriving in late January or early February. The 650i SLI was designed to offer dual x8 SLI operation, provide competitive performance to the Intel P965, and do this for a price in the $125~$175 range. The $64,000 question is if NVIDIA succeeded in designing a competitive chipset when compared to the Intel P965. We will provide some initial performance results today that should help in determining if ASUS' implementation of this chipset offers some serious competition or if we need to wait on additional motherboards before coming to a conclusion.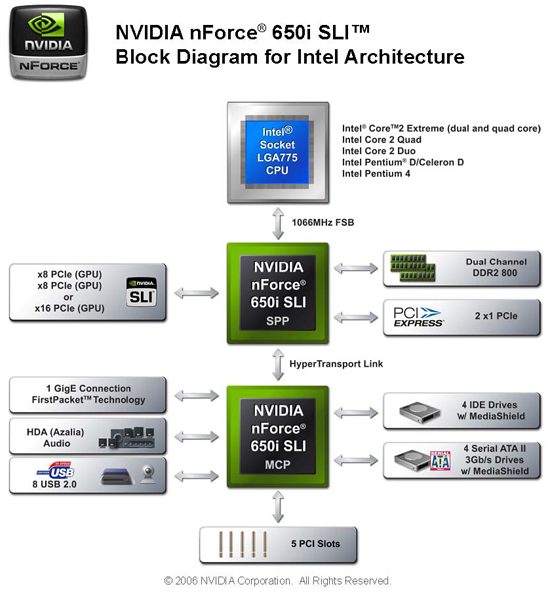 NVIDIA has designed the 650i SLI as their true mainstream performance chipset, given the 680i is targeted to the upper end performance segment with pricing starting around $230 compared to $130 for the 650i. Details about the differences between the two chipsets can be
found here
. The major highlights are the 650i only supports dual x8 SLI operation, single Gigabit Ethernet, four SATA 3Gb/s ports, and eight USB 2.0 ports instead of the dual x16 SLI, physics card slot, dual Gigabit Ethernet with teaming, six SATA 3Gb/s ports, and ten USB 2.0 ports on the 680i. Although NVIDIA has not stated specific support for the upcoming 1333FSB processors in the 650i, ASUS is saying the board will be capable of supporting them with an updated BIOS release. We also noticed that ASUS included EPP memory capability along with LinkBoost technology, both items are not officially supported by NVIDIA in their product documentation although each feature did work as advertised.
This leads us into today's performance preview of the ASUS P5N-E SLI. In our article today we will briefly go over the board layout and features, provide a few important performance results, and discuss our issues with the board. We will provide a further review of this product once we receive additional 650i based boards in January. With that said, let's take a look at where this board stands now.