Socket-F vs. Woodcrest
We first started contacting AMD for a Socket-F platform a few weeks before its release date. Typically, when we receive a platform from AMD, it consists of a couple of CPUs, a main board and some memory. This time around AMD decided to send full platforms from a vendor called
Colfax
(one of AMD's solutions partners). Note that we used the plural of platform: AMD made a fairly bold move and sent a Woodcrest system as well. Both of the systems were configured identically: same case, power supply, hard drives, DVD-ROM and cooling (minus the CPU fans).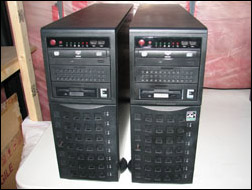 Click to enlarge
Of course any loyal Intel fan is going to cry foul, but rest assured we checked to see that there was no foul play here. The BIOS settings were configured as identically as possible, the fans were all running inside the case, etc. We've wanted to do this kind of comparison for awhile but lacked the equipment in the lab to create two identical systems. As we alluded to above, the only component that wasn't the same was the processor cooling. Intel's thermal design for most Xeon systems is an air duct that is fed by a hefty 6" fan on one side and vented out the rear of the case (see pictures on the next page). This usually produces a system that sounds like a miniature wind tunnel, at least for the server versions. There are of course a few other differences, but most of those relate to the platform: registered DDR2 vs. FB-DIMMs, different chipsets, and different motherboards were used, but that will always be the case.
What's new with Socket-F?
Socket-F isn't a huge technological leap for AMD; the most notable change is the move to DDR2 memory. Besides the new memory type however, Socket-F brings hardware virtualization acceleration and better power consumption. All of this is fabricated into a new 1207-pin LGA socket, similar to the LGA design of socket 775 only with more pins in the CPU socket. Here's a quick overview of the currently shipping 2-way Socket-F Opterons.
AMD Socket F Overview
Model
Clock
Power Consumption
2210
1.8GHz
95W
2212
2.0GHz
95W
2212 HE
2.0GHz
68W
2214
2.2GHz
95W
2214 HE
2.2GHz
68W
2216
2.4GHz
95W
2216 HE
2.4GHz
68W
2218
2.6GHz
95W
2220 SE
2.8GHz
119.2W