3DNow! vs Raw FPU Power
The key weakness of all non-Intel processors has seemed to be the FPU performance they brought with them. From the days of the horrendously slow FPU of the Cyrix 6x86, to the present day with the K6-3 still lagging behind the Pentium II in FPU performance, how much does 3DNow! affect gaming performance? AnandTech's tests illustrated a 4% increase in performance when using 3DNow! accelerated Quake 2 OpenGL drivers as opposed to using the standard OpenGL drivers under Quake 2 with the K6-3 test system's Riva TNT video card.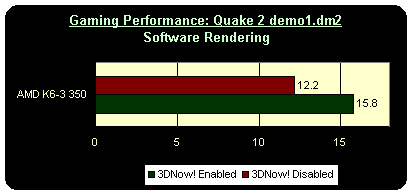 The K6-3's 3DNow! instruction set provides for a 30% increase in performance in software rendering under Quake 2, comparatively speaking, making the K6-3 a slower gaming competitor to Intel's Pentium II without 3DNow! support.
Gaming Performance Comparison
Using the Riva TNT as a benchmark video card this time around, let's see how the K6-3 compares to the competition under Quake 2 and Half-Life: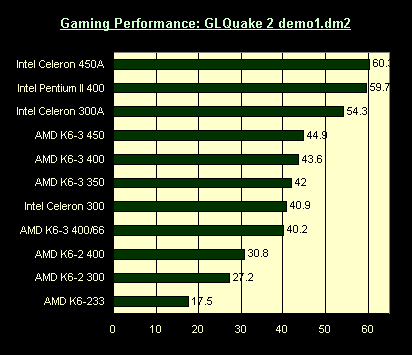 The K6-3 is still placed far enough from the Celeron A and the Pentium II to be considered a weak gaming performer with the Riva TNT. The TNT performance has been improved greatly over the K6-2 400, simply due to the increased L2 cache speed, which the TNT benefits greatly from as you can see by the performance difference between the cacheless Celeron 300 and the Celeron 300A equipped with 128KB of L2 cache running at clock speed. The K6-3 400 scores a smooth 13 fps more than the K6-2 400 for no reason other than its L2 cache, as the K6-3 core is identical to the K6-2 400 CXT's core in every way, including FPU performance.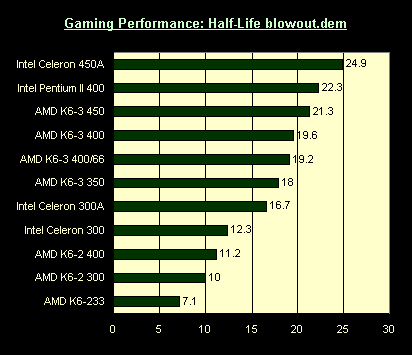 Half-Life shows a fairly similar picture, however the game's dependency on L2 cache performance closes the performance gap between the K6-3 and the Pentium II/Celeron A, making the benchmarks much more competitive than before with the Quake 2 comparison. You can expect most games to follow the trend Half-Life has set with the K6-3 & TNT combo benchmarked here.