Biostar TForce 965PT: Feature Set
Biostar TForce 965PT
Market Segment:
Budget Performance - $104.99
CPU Interface:
Socket T (Socket 775)
CPU Support:
LGA775-based Pentium 4, Celeron D, Pentium D, Pentium EE, Core 2 Duo, Core 2 Extreme
Chipset:
Intel P965 + ICH8
Bus Speeds:
100 to 600 in 1MHz Increments
Memory Speeds:
Auto, 533, 667, 800
PCIe Speeds:
Auto, CPU Linked, Fixed at 100MHz, 100MHz~200MHz
PCI:
Fixed at 33.33MHz
Core Voltage:
Startup, 1.10000V to 1.80000V in 0.00625V increments
CPU Clock Multiplier:
Auto, 6x-11x in 1X increments for Core 2 Duo
DRAM Voltage:
1.8V, 2.0V, 2.1V, 2.2V
DRAM Timing Control:
SPD, 8 DRAM Timing Options
NB Voltage:
Auto,1.25V, 1.35V, 1.45V, 1.55V
FSB Voltage:
1.2V, 1.3V, 1.4V, 1.5V
Memory Slots:
Four 240-pin DDR2 DIMM Slots
Dual-Channel Configuration
Regular Unbuffered Memory to 8GB Total
Expansion Slots:
1 - PCIe X16
1 - PCIe X4
1 - PCIe X1
3 - PCI Slot 2.3
Onboard SATA/RAID:
4 SATA 3Gbps Ports - Intel ICH8
No RAID Capability
Onboard IDE:
1 Standard ATA133/100/66/33 Port (2 drives) - VIA VT6410
Onboard USB 2.0/IEEE-1394:
10 USB 2.0 Ports - 6 I/O Panel - 4 via Headers
No Firewire Support
Onboard LAN:
Gigabit Ethernet Controller - PCI Express Interface
Realtek RTL 8110SC
Onboard Audio:
Realtek ALC883 HD-Audio 8-channel CODEC
Power Connectors:
ATX 24-pin, 4-pin EATX 12V
Fan Connectors:
3 - CPU, Chassis, System
I/O Panel:
1 x PS/2 Keyboard
1 x PS/2 Mouse
1 x Serial
1 x Audio Panel
1 x RJ45
6 x USB 2.0/1.1
BIOS Revision:
AWARD P96CA914BS
The Biostar TForce P965 Deluxe motherboard has been one of our favorite boards in the labs as we think it has one of the best blend of performance, options, and price. However, Biostar has not been able to supply the board due to Intel ICH8R chipset shortages. This problem seems to be easing currently and we expect the board to be available in volume later this month. Faced with this supply issue Biostar decided to offer the P965PT with the only differences being the ICH8 chipset is used instead of the ICH8R and a few minor BIOS changes. The BIOS does not offer the same MCH voltages nor can you change the multiplier downward with it.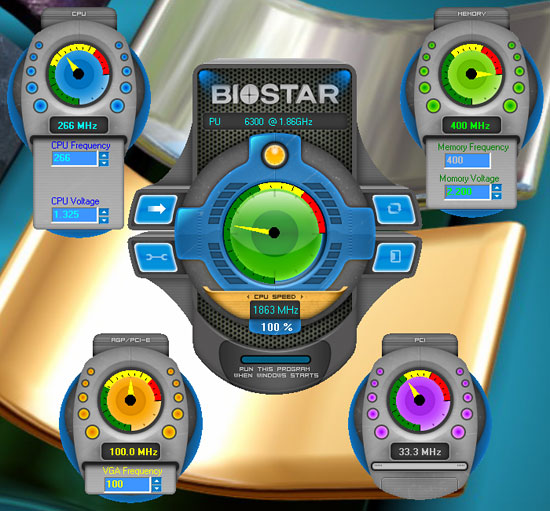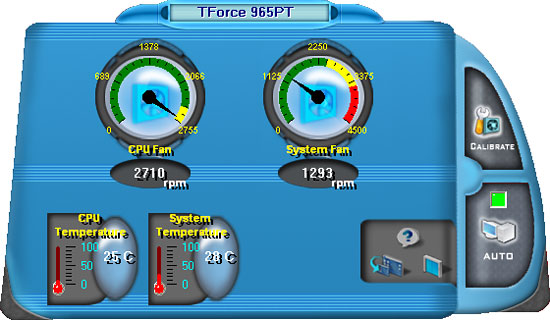 Biostar includes several software utilities with the board: an Overclock Program, Hardware Monitoring application, Smart Fan Utility, and an online BIOS update applet. The overclock utility allows for limited changes to the FSB and basic system voltages. The smart fan utility allows control of the CPU and main system fan header within Windows, although the BIOS options are more significant in regards to temperature control. The Hardware monitoring utility allows for real-time monitoring of CPU temperature, CPU fan speeds, and basic system voltages. Biostar includes an automatic overclocking utility in their BIOS that offers three different settings named V6, V8, and V12.
We once again selected the V12 setting in the BIOS and after a quick reboot our speeds increased to Ford Escort performance this time around. The asphalt ripping speeds of our V12 equipped Escort netted us a 2037MHz CPU speed via a 7x291FSB and DDR2-723 memory speed. However, the system was smart enough (unlike our other boards) to actually set the memory timings at something other than an ultra safe 5-5-5-15 setting with actual timings at 4-4-4-10. This is unusual as this BIOS will default to DDR2-667 (4:5) settings with timings at 5-5-5-15 when left on auto settings. Overall, the automatic overclocking worked without any issues and provided an increase in speed just as Biostar intended, although we expected a little more from a beefy V12.