nForce 650i SLI & 650i Ultra
For buyers not interested in the top-end features or top end price of the 680i, NVIDIA will offer two additional models at lower price points.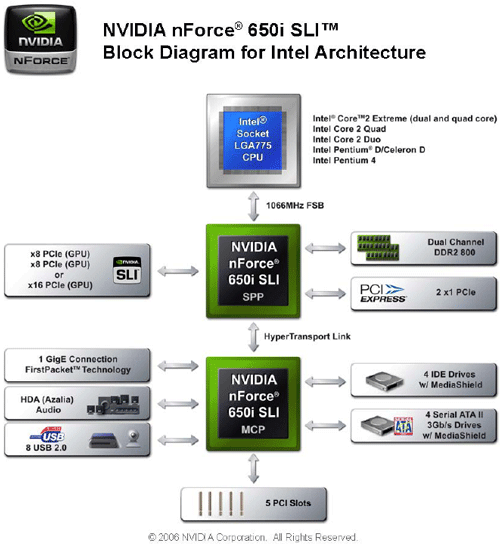 The 650i SLI, which will sell in the $150 to $199 price range, will support a single x16 PCIe video card, or SLI with two video cards driven by two x8 PCIe slots. PCIe lanes are reduced to 18, SATA-II ports from 6 to 4, USB 2.0 from 10 to 8, and it comes with a single Gigabit Ethernet port instead of the two with teaming on the 680i.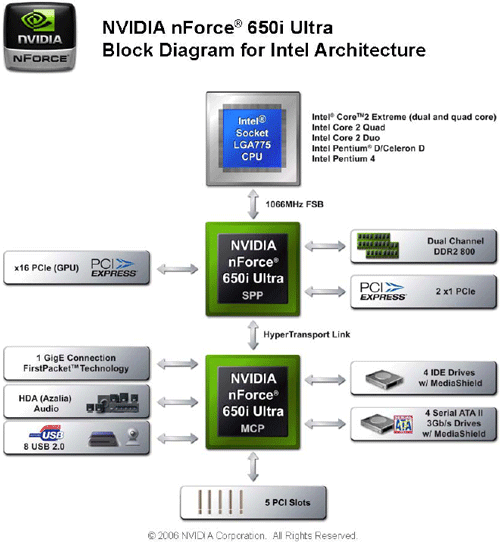 The nForce 650i Ultra, designed to sell in the $99 to $149 price range, offers a single x16 PCIe slot in 18 total PCIe lanes. Features are otherwise the same as the 650i SLI.
While there is some overlap in market segments, the 680i is designed to compete with the Intel 975X premium motherboards while providing dual x16 SLI graphics compared to dual x8 CrossFire on the 975x. The 650i SLI should compete with premium Intel 965 boards, while the 650i Ultra will compete with low-end or entry-level P965 motherboards.