More Cores, but where's the Elegance?
Architecturally, the two individual die that make up Kentsfield are treated as one. This distinction matters especially when you look at power consumption of the new processor. In the event that only one of the two die is being used, the other cannot simply power down; instead it has to run at the same voltage and frequency of the other active die. Within each die, the two cores have to run at the same frequency and voltage as well, so there's not really much flexibility in operation. The end result is that while Kentsfield doesn't use too much more power than Conroe when running four CPU intensive threads simultaneously given the additional work it is doing, when only running two threads, Kentsfield is quite wasteful with its power consumption.
A more efficient solution would be to allow each core to operate at its own frequency, and an even better implementation would require independent power planes per core - allowing for different voltages depending on load. As simple as these two options are to write, they are unfortunately far more difficult to implement. AMD has already announced that its Barcelona quad-core CPUs will support independent clock speeds per core, but not independent voltages.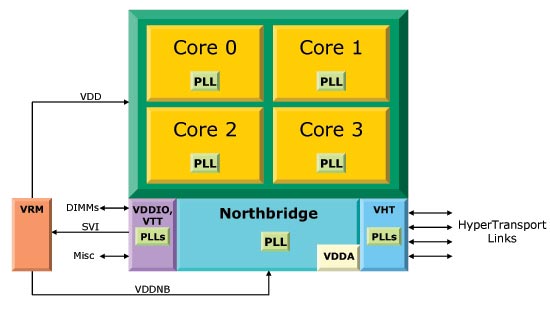 AMD's Barcelona core, due out in Q2 '07, will have support for independent clocks per core but all sharing the same voltage