F.E.A.R. Performance
F.E.A.R. has a built in test that we make use of in this performance analysis. This test flies through some action as people shoot each other and things blow up. F.E.A.R. is very heavy on the graphics, and we enable most of the high end settings for our test.

During our testing of F.E.A.R., we noted that the "soft shadows" don't really look soft. They jumped out at us as multiple transparent shadows layered on top of each other and jittered to appear soft. Unfortunately, this costs a lot in performance and not nearly enough shadows are used to make this look realistic. Thus, we disable soft shadows in our test even though it's one of the large performance drains on the system.

Again we tested with anisotropic filtering at 8x, and all options were on their highest quality (with the exception of soft shadows which was disabled). Frame rates for F.E.A.R. can get pretty low for a first person shooter, but the game does a good job of staying playable down to about 25 fps.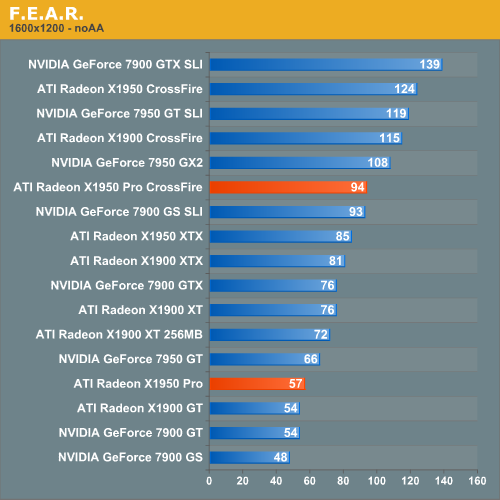 The $400 SLI/CrossFire solutions from NVIDIA and ATI essentially tie each other under F.E.A.R. This does mean that SLI once again scales better than CrossFire, but the X1950 Pro maintains its performance advantage.