It is remarkable how fast photography has shifted from film to digital imaging. If you doubt the shift is all but complete, check the impact on Kodak. Shutdown of US film operations has been accelerated several times, many thousands of employees have been cut, and Kodak stock has taken a beating as the company struggled to find secure footing in a new digital imaging world. All of this was happening while Kodak invested millions in developing digital imaging solutions in a market that was shifting like quicksand.
Digital, of course, is the domain of the computer, and the transition of artistic photographers to digital has been anything but smooth. The artistic types distrust turning their vision into cheap Adobe Photoshop tricks, and the tech-savvy are so enamored of technology and editing that they often don't have a clue about what makes a good photograph and what lens to use in a given situation. As AnandTech prepares to re-launch Digital Photography reviews, it is important that our readers understand at least the basics of digital photography. That is the purpose of this guide.
There are plenty of Digital Camera Review sites out on the web, so you may ask why AnandTech is re-launching a Digital Photography section? If you are a photographer or serious photo hobbyist you have many excellent review sites already available. They do a great job of providing the kind of information the serious photo hobbyist is looking for. However, our readers who visit those sites are often overwhelmed with the sheer amount of information and the background required to make that information accessible. For a computer enthusiast who wants to learn about digital cameras to make a buying decision, many current sites are a difficult place to find answers. Some sites make the assumption that the reader knows a lot more about photography than our average reader, which often leads to much of the review being gibberish to a non-photographer. Other sites dwell on tests of things like "start-up times" that were important in early digital, but have become all but meaningless in today's digital SLR market unless you are a professional sports photographer. Still other sites, which are very well-grounded in the traditional photography side show an obvious lack of knowledge about computers and computer tools that make digital photography so flexible today.
Some of our readers may not like AT delving into Digital Camera Reviews, and to them we say you just can't ignore digital photography any more. Today's digital imaging is nothing more than an optic stuck on a computer, and unfortunately there is very little left of the mechanical gems that once ruled the world of photography. It is our sincere belief that we can do digital camera reviews with a unique perspective for our readers and computer enthusiasts everywhere, but please help us as we try to reinvent this wheel.
There are some things about photography that have not changed in the move to digital, however. In the end taking a digital photo is still basically dependent on the same set of "rules" as taking a film image, as the only real difference in digital and film is what happens after the image is captured. This is particularly obvious in looking at Digital SLR cameras, which are currently the fastest growing segment of the Digital Photography market. You will find all the traditional photography names here - Nikon, Canon, Pentax, Olympus, Minolta - and this is where the "real" photographers work. Names like Casio, HP, Sony, Fuji, Samsung and Kodak don't exist in SLR space - except as the odd offering based on the lenses of one of the "real" Photography companies.
The reasons for this are really quite clear. Digital and computer imaging have concentrated on the sensor and ever increasing megapixel counts, while the people who take photographs for a living have continued to concentrate on the quality of the lenses they work with and the images that they sell. In both film and digital, all other things being equal, the best quality lens wins. Of course the best quality lenses and the widest variety of lenses come from the traditional photo companies like Canon, Nikon, Minolta, Pentax and Olympus. These companies have taken years to develop their extensive line of lenses, and these lenses are the ones in the hands of photographers. Today, it takes a lot of money and effort to develop a new lens line. As a result you have amalgams like Samsung using the Pentax lens line on their SLR, a Fuji Pro camera using Nikon lenses, and past Kodak Pro Digitals designed for both Canon and Nikon lens mounts - two models for each Pro camera.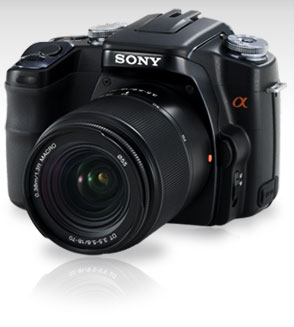 Recently Sony introduced their first SLR, and one of our first digital camera reviews at AT will be the new Sony Alpha or A100. So did Sony break the rules? Sony is one of the world's largest manufacturers of digital sensors - the chip that captures an image in digital format. In fact you will see Sony sensors in almost every brand of "serious" camera except Canon and Olympus. Sony makes sensors for Nikon, Pentax and Minolta. Canon is another huge sensor manufacturer and makes their own sensors for their cameras, while Kodak and Panasonic both make four-thirds sensors used by Olympus in their various models.
Sony has some very feature-rich and capable fixed lens cameras in their lineup, and their own form factor for memory, but Sony has coveted a big piece of the "serious" photography or SLR market. Sony apparently did not want to brand themselves a second tier player in the SLR market by offering an SLR for other brand lenses. Instead they entered into a joint development agreement with Konica-Minolta last year. Then, early this year, Sony bought the Konica-Minolta camera business and announced they would continue development of the 20-year old Minolta auto-focus lens system to work with their own new Digital SLR cameras.
The Sony Alpha or A100 is the first camera that marries Sony technology with the Minolta system. It is a new Digital SLR brand with a new Sony 10.2 megapixel sensor and an existing lens base of some 20 million Minolta Auto-Focus lenses. By purchasing the Konica Minolta camera business and assuming warranty responsibilities, Sony instantly became a major player with a full lens line. When you consider that only Sony and Canon make their own sensors for their digital SLR cameras you can clearly see what Sony can leverage in the DSLR market, and why they were willing to buy an existing lens line. Sony didn't break the rules, they just bought instant credibility in a market that is difficult to crack.
If you want to learn about digital photography you should find this guide a good place to start. If you are in the market for a new Digital SLR then this is a good place to gain the background to intelligently compare these cameras. The Digital SLR market is hot and we will be covering the six new 10 megapixel cameras that sell for less than $1000 in detail in the coming months: the Sony A100, Nikon D80, Canon Rebel XTi, Olympus E-400 (Europe/Asia only), Pentax K10D, and Samsung GX-10.