Test Setup
Our test configurations today consist of the ASUS P5B Deluxe and P5W-DH Deluxe motherboards. Each motherboard has the latest BIOS installed with the P5W-DH sporting the new performance enhanced 1405 release. We will test the P5B Deluxe with the official 0709 BIOS release for our P965 roundup. According to ASUS the performance should be equal but the option for disabling C.G.I. will be implemented. We will also include X1950 CrossFire results in the near future.
CrossFire Test Beds
Performance Test Configuration
Processor:
Intel Core 2 Extreme X6800
(2.93GHz 4MB Unified Cache)
RAM:
2 x 1GB OCZ PC2-9000
Tested at DDR2-800 3-3-3-8 2.3V
Hard Drive:
Seagate 320GB 7200RPM SATA2 16MB Buffer
System Platform Drivers:
Intel - 8.0.1.1002
Video Cards:
1 x Gigabyte 7950GX2
1 x MSI X1900XT plus 1 x MSI X1900 CrossFire Edition
Video Drivers:
NVIDIA 91.47 - ATI Catalyst 6.9
CPU Cooling:
Scythe Infinity
Power Supply:
OCZ GameXstream 700W
Optical Drive:
Pioneer BDR-101A
Case:
Cooler Master CM Stacker 830
Motherboards:
ASUS P5W-DH Deluxe (Intel 975X) - Bios 1405
Asus P5B-Deluxe (Intel P965) - Bios 0708
Operating System:
Windows XP Professional SP2
.
Test conditions were maintained the same, as much as possible, over the platforms tested. Our game tests were run at settings of 1280x1024, 1600x1200, and 1920x1200 with 4xAA/8xAF implemented in games that support this feature. These settings were used on both our Gigabyte 7950GX2 and MSI X1900XT CrossFire setups. We feel like these settings and resolutions will provide accurate benchmark results for the typical user utilizing a CrossFire setup with a high end CPU.
All results are reported in our charts and color-coded for easier identification of results. We utilized new drive images on each board and for each GPU choice in order to minimize any potential driver conflicts. Our 3DMark results are generated utilizing the standard benchmark resolution for each program. We run each benchmark five times, throw out the two low and high scores, and report the remaining (mean) score.
General Graphics Performance
The 3DMark series of benchmarks by Futuremark are among the most widely used tools for benchmark reporting and comparisons. Although the benchmarks are very useful for providing apple to apple comparisons across a broad array of GPU and CPU configurations, they are not a substitute for actual application and gaming benchmarks. In this sense we consider the 3DMark benchmarks to be purely synthetic in nature but still valuable for providing consistent measurements of performance.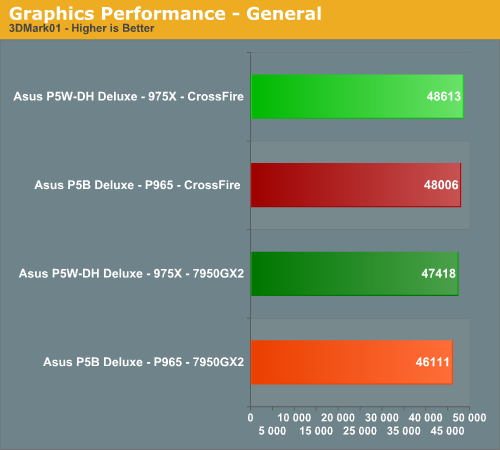 The P965 chipset trails the 975X by 1% in the 3DMark2001 SE CrossFire results and about 3% in the 7950GX2 testing. At first glance this indicates almost equal graphics performance between the two platforms. However, the graphics requirements in 3DMark2001 SE are not that strenuous for our GPU/CPU combination. Instead, this benchmark is currently a better indicator for CPU, chipset, and memory performance when comparing platforms. In this regard, we can see that the P965 trails behind the 975X slightly in platform performance as our previous application benchmark testing has indicated.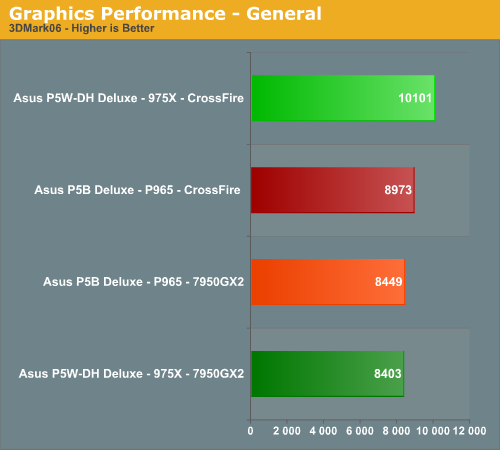 In our more strenuous graphics test utilizing 3DMark06 we find our P965 actually leads the 975X chipset but the margin is negligible. However, in our CrossFire result the P965 trails the 975X by close to 13% which is significant. We looked over the results and found in the SM2.0 tests the P965 solution was about 3% behind the 975X scores, the CPU score favored the P965, but the HDR/SM3.0 tests showed a 12% difference on average. Since the HDR/SM3.0 tests heavily stress both the CPU and graphics bus we figured the x4 PCI Express lane limitation was causing the bottleneck.
Our initial assumptions turned out to be incorrect. After working with ASUS we discovered in their internal testing they noticed the same issue and decided to see what would happen on the 975X if the MCH was programmed at x16/x4 operation between the two GPU slots instead of x8/x8. Their test results revealed a surprise as the differences in all areas of testing was less than 1%. The issue lies in the limited bandwidth and speed of the Direct Media Interface between the P965 MCH and ICH8R. The time required to simultaneously move the data between the two chipsets imposes a significant overhead and bandwidth issue in certain applications.
While ASUS has optimized their bios to improve communications between the MCH and ICH, it appears we are already near the maximum efficiency of this interface. This simply means that as games become increasingly complex and data bandwidth increases then the differences between the P965 and 975X in CrossFire or SLI operation will widen. If the worst case remains around the 13% we see in 3DMark06, that's a compromise some will be willing to live with, depending on motherboard prices and features. Let's see how this potential issue affects our initial gaming benchmarks.