EPoX began operations in 1995 with the goal of offering performance oriented motherboards at a value price point. EPoX has a long history of providing a wide range of motherboards based upon core logic chipsets from varying manufacturers. EPoX has prided them selves on their research and development capability, and the have generally succeeded in offering high quality products at very competitive prices. More information about the entire line of EPoX products can be
found here
.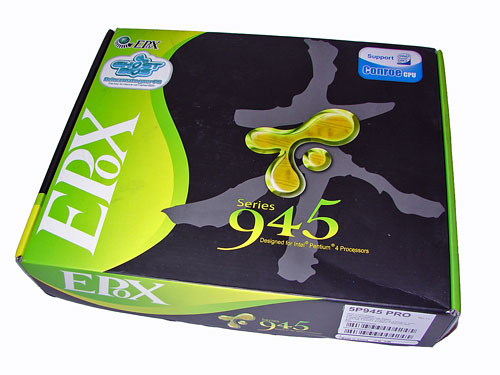 While the
945P
has been around for over a year the performance and compatibility of the chipset is still very good and provides a solid platform for those interested in full featured boards that are usually priced in the $65 ~ $95 range. The 945P will eventually be replaced by the recently released P965 chipset which is turning out to be an excellent chipset for the performance oriented crowd. We have to be honest and state that from an enthusiast viewpoint the 945P chipset is not that exciting, but that is not necessarily a bad thing. Here we have a chipset that was a solid follow up to the Intel 915, still offers some of the latest technology, provides very good performance for the dollar, and is available in a myriad of configurations. The most important aspect of the Intel 945P is that is simply works without issue. Our article today is a review of how well the EPoX EP-5P945 PRO performs against other
budget Core 2 motherboards
that we have recently reviewed.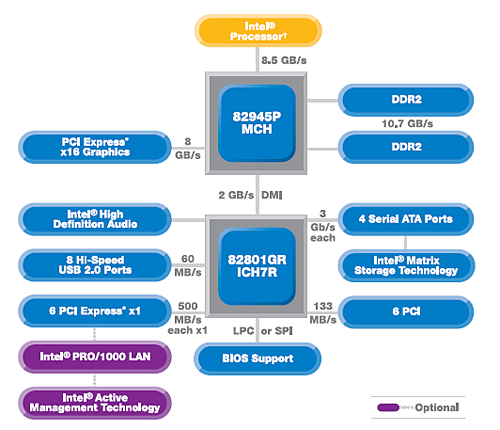 The
EPoX EP-5P945 PRO
motherboard uses the Intel 945P chipset paired with the Intel ICH7. Our first impression of the motherboard is that it has a very good layout and contains excellent components for the price. The chart above lists the standard feature set available when utilizing the Intel 945P (82945P) and ICH7R (82801GR) chipsets.
However, the EPoX board uses the ICH7 which drops RAID support. The 945P/ICH7 combination enables full support for a single X16 PCI-E graphics slot, up to six X1 PCI-E devices, 4GB memory addressability, and native DDR-2 533/667MHz memory support. This combination also enables support for eight USB 2.0 ports, HD Audio, Gigabit Ethernet support, six PCI slots, four SATA 3.0Gb/s ports, and two IDE devices. The 945P chipset does not support the Pentium EE or XE series of processors.
One of the main design features EPoX engineered into their board is an additional physical PCI Express X16 slot that runs in PCI Express X4 mode. This enables Intel's Graphic Link Interface (GLI) which allows two PCI Express video cards to be installed allowing quad display capability. This additional PCI Express X4 slot runs off the 82081GB (ICH7) chipset so the primary graphics slot still operates at full X16 capability. If the user chooses X4 mode for the secondary graphics slot then the two single PCI Express X1 slots must be disabled via jumpers.
Let's see what this board is capable of and if the 945P is still worth considering.