We recently previewed the Abit AB9-Pro motherboard based on the P965 chipset and were impressed with its stock performance even though we had difficulty overclocking it with the early production BIOS. Abit has released a new performance oriented BIOS and we will be revisiting its performance in our upcoming P965 shootout. In the meantime Abit has been busily preparing their flagship Intel motherboard based on the 975X chipset. Abit recently provided us with a production level AW9D-MAX motherboard along with a beta BIOS that is undergoing final quality assurance and performance testing prior to going into production next week. We were hoping to have a production level BIOS available in time for a full review of the board against its competition from ASUS, DFI, Foxconn, and MSI. However, due to amount of comments and emails we received asking about the performance of the board we decided to provide a short preview utilizing a subset of our current benchmark suite.
Although the AW9D-MAX will be going on sale shortly, Abit is still optimizing their BIOS code and we expect to see further options along with additional performance enhancements before shipment. We are very glad to report the current BIOS is in significantly better shape than we expected as is the excellent µGuru overclocking utility. The latest beta BIOS does have a few issues that we will discuss later but overall the board worked as advertised during our benchmarking session. More importantly the current BIOS code is very stable based upon our stress tests and easily overclocked to levels that matched or exceeded our ASUS P5W-DH. We expect to see any BIOS issues resolved by Abit before public release of the motherboard. While Abit offered a previous 975X based motherboard under the AW8D-MAX moniker (which lacks Core 2 Duo compatibility) we can ensure you that the two boards are world's apart in performance, design, and overclocking capabilities. While the AW8D-MAX was a solid board with very good performance, it was too late to market and just did not seem to deserve the MAX logo. We knew Abit could do better in the performance area and at first glance they have certainly succeeded.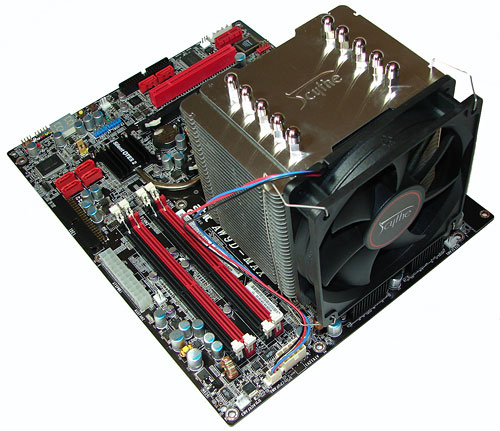 Abit was the top manufacturer of enthusiast level boards just a few short years ago and catered almost exclusively to the overclocking community. However, Abit found itself in serious financial and market troubles over the few years as its product portfolio expanded into areas where it did not have the manufacturing expertise or cost advantages to compete with the larger tier one manufacturers. As a result, Abit lost focus on its core competence, the enthusiast and overclocking market, and allowed DFI to become the number one brand name. Abit was close to ceasing business operations as their product lines did not offer any real price, performance, or product differentiation from others except for their µGuru technology.
Fortunately, Abit entered into a long-term partnership with USI this past January that ensures their financial health for the future and a change in the company name. Universal Abit is the successor to the Abit motherboard brand and has partnered with USI for their manufacturing and engineering expertise. The Abit name will remain as the main identity for products but expect to hear more from Universal Abit as the company transitions itself from strictly IT manufacturing to leading technology design and brand management. This strategic partnership also signals a return of Abit to their roots as a company driven to provide the computer enthusiast and extreme overclocker with the highest performance solutions available.
Intel 975X Chipset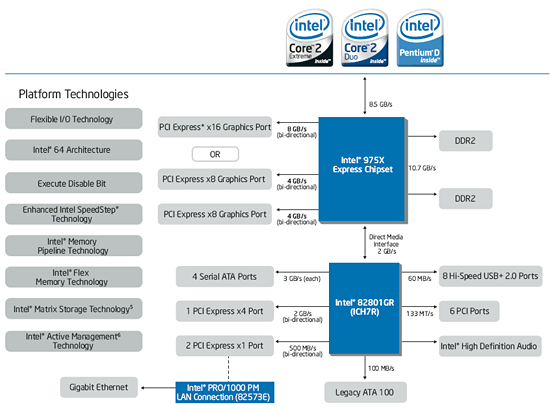 Click to enlarge
The chart above lists the standard feature set available to manufacturers using the Intel 82975X chipset that has been available for almost a year now. The 975X chipset offers 16 PCI Express lanes that can be configured as a single PCI Express X16 graphics port or two PCI Express X8 ports for multi-view or dual-GPU capability. The 975X fully supports ATI CrossFire technology at this time. The chipset features Intel Memory Pipeline Technology (MPT), Intel Flex Memory Technology, 8GB memory addressability, and ECC memory support. The Intel MPT has been enhanced over the 955X iteration to offer improved pipelining. This enables a higher utilization of each memory channel resulting in better performance through increased transfers between the processor and system memory. Intel Flex Memory Technology allows different memory sizes to be populated and still remain in dual-channel mode. The architecture also supports both asynchronous and isochronous data traffic, with dedicated internal pipelines and specialized arbitration along with improved electricals for better memory latency compared to the 955X chipset.
The ICH7R chipsets offer eight USB 2.0 ports, up to four 3Gb/s SATA ports, six available PCI Express Lanes, six PCI ports, Ultra 100/66/33 Parallel ATA support, and HD audio support. When compared to the newer ICH8R chipset utilized in the P965 motherboards, the ICH7R offers two less USB 2.0 and 3Gb/s SATA ports but offers native PATA support. This leads us into today's preview, so let's take a closer look at the Abit AW9D-MAX features and performance.