E6700
The 0507 BIOS adds a new feature in the BIOS under the "Advanced", "CPU Configuration" tab. Where there was no means to adjust CPU ratios in earlier BIOS versions, with 0507 you now have an adjustment range from 6X to 10X.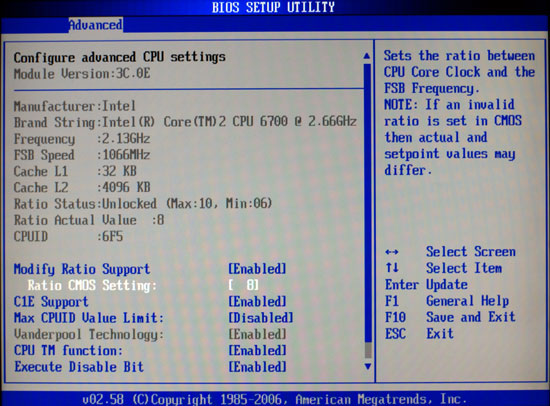 Some Conroe chips also unlock at the top, allowing ranges to about 14x. None of our Conroe chips unlocked up, but you may be one of the lucky ones who have a Conroe that unlocks both down and up.
The E6700, which runs at 2.67GHz, is very interesting because of the large headroom we consistently find at stock voltage. Once again, on the P5B Deluxe at stock voltage, the combo could run day and night at 3.4GHz (340x10) with no issues at all. At the stock multiplier of 10x, at 1.4875V the highest stable speed was 360x10 or 3.6GHz, At a reduced 9x the highest speed was 400x9, which is also 3.6GHz. With the new BIOS unlocking multipliers down, we reached 440 at 8x, or 3.52Ghz, as you can see in this screen capture.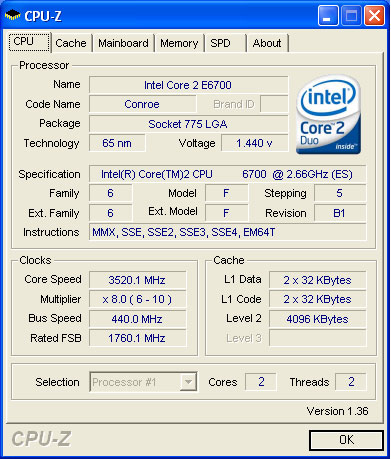 7x allowed a further increase to a FSB speed of 494, which is where the 6700/P5B maxed out. Even at a 6X multiplier 494 seems the limit of the FSB with this CPU and board. Comparing this to our highest FSB overclock of 362 with this board in the
Conroe Buying Guide
we would conclude that ASUS has significantly improved the overclocking of the P5B. The ability to choose and hold lower multipliers allowed the bus speed to increase from 360 to 494.
E6600
The E6600 unlocked down with the new BIOS and allowed a new range of FSB adjustments of 405x9 (stock), 460x8, 495x7, and 495x6. Below is a screen capture at 495x7 or 3.465GHz.

Click to enlarge
While the new BIOS on the P5B adds enormous flexibility to the 965P motherboard, it should still be pointed out that on average the 965 still does not overclock as well as the Intel 975X if you compare clock to clock. You might want to look back at the 975X overclocking results in
Conroe Buying Guide: Feeding the Monster
for a comparison.