Dual vs. Quad Channel
The Mac Pro ships with two 512MB FB-DIMMs by default, which means that only two channels are populated. Moving to four FB-DIMMs allows you to have one FB-DIMM in each channel and thus get access to the full 21.3GB/s of bandwidth (in theory). So is there a performance difference between dual and quad channel memory configurations? We ran both configurations with the same amount of memory in all of our tests to find out: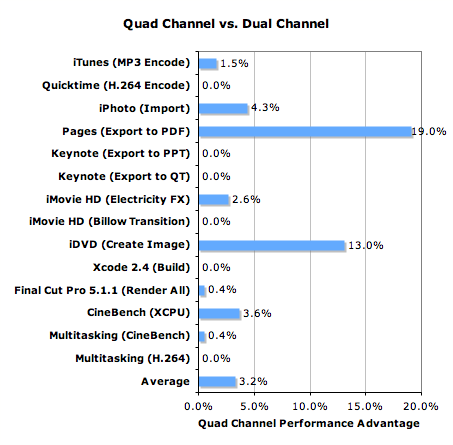 For the most part, there's no benefit to having all four channels populated, but in some rare cases the performance boost can be tremendous. Given that lmbench showed us an increase in memory write speed when going from dual to quad channels, we can assume that the scenarios where we do see a large performance gain are write bandwidth bound.
If you're going to upgrade the memory in your Mac Pro anyways, you might as well stick to four FB-DIMMs as it will give you the best possible combination of latency and bandwidth (as good as you can get with FB-DIMMs that is).