Professional Application Performance with Final Cut Pro, Xcode and CineBench
Our first "Pro" application test uses Apple's famed Final Cut Pro 5.1.1. The test is simple, we are just rendering a video we dragged into our project: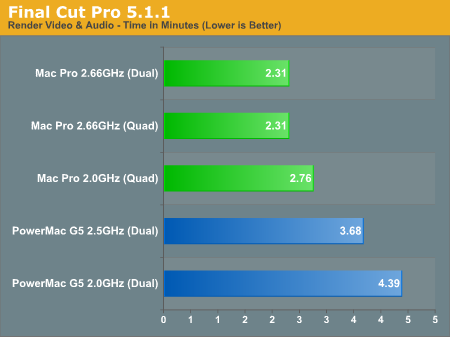 If you spend a lot of time in Final Cut, you can't get faster than the Mac Pro. At 2.0GHz it's already faster than the PowerMac G5 (even when you extrapolate out the performance of the 2.7GHz G5).
Our next test is for all you developers out there, we're simply measuring build time using Xcode 2.4 and building our favorite OS X IM client: Adium. Compiling is very disk intensive but it's also quite CPU bound as well; while there's no benefit to quad processors when only compiling a single application there is a benefit to higher clock speeds.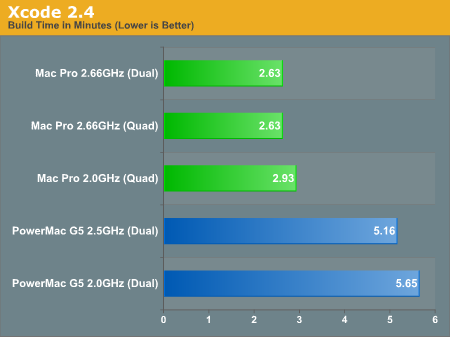 The Mac Pro completely demolishes the PowerMac G5 in build time, cutting the time to build Adium almost in half. The performance improvement is tremendous and it echoes some of the feelings we've had when using Intel based Macs; anything involving I/O seems to be faster and smoother.
Our final professional benchmark is CineBench 9.5, which measures 3D rendering performance. Two versions of the benchmark are run, one that's single threaded and one that spawns as many threads as you have cores.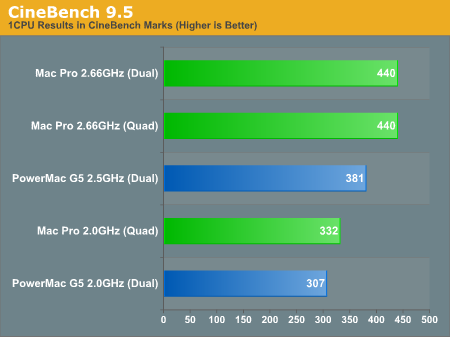 The single threaded test shows a reasonable advantage over the PowerMac G5, about 8% at the same clock speed. The PowerPC G5 architecture was no slouch and floating point performance was its strong point, thus even the almighty Woodcrest can't really put it to shame too much.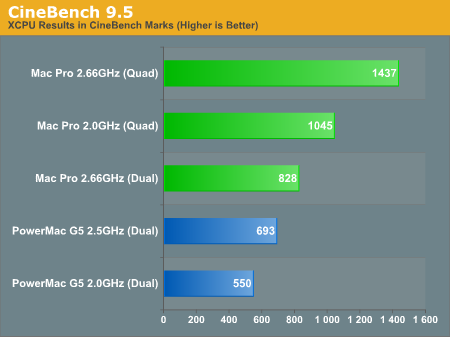 The multithreaded test shows the advantages of having four cores, as the Mac Pro maintains a significant lead. Note that the Mac Pro 2.66GHz held a 15.4% performance advantage over the PowerMac G5 in the single threaded test, but that grew to 19.4% in the multithreaded test. The performance scaling shows one of the advantages of Intel's shared L2 cache, making for better performance scaling when going from one to two cores.