Battery Life - Reading
MobileMark's next battery life test is the Reader 2002SE benchmark, which only provides a battery life metric: The workload in this category models a notebook user reading a book on his computer.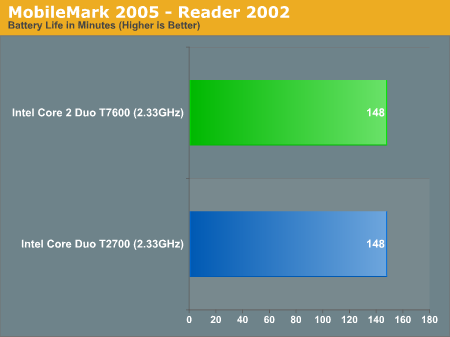 Here there's no difference between Core Duo and Core 2 Duo, which in the mobile world is important. If Intel isn't going to give us any more battery life, it had better not take any away.
Battery Life - DVD Playback
The DVD Playback 2005 test is just as it seems, this benchmark measures battery life while playing DVD content. The content is provided by BMW: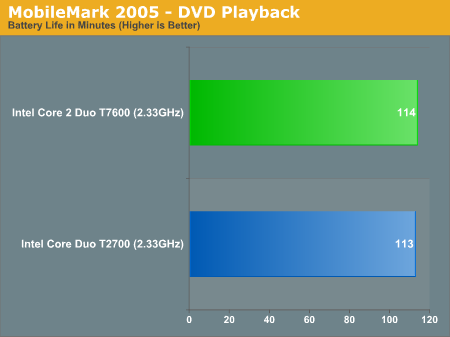 The DVD playback test agrees with the previous three tests, there's no change to battery life with Core 2 Duo.
Battery Life - Wireless Web Browsing
Our final battery life test centers around wireless internet browsing.
This test requires a web server to wirelessly feed content to the machine being tested, as it browses the web pages stored on the server until it runs out of battery.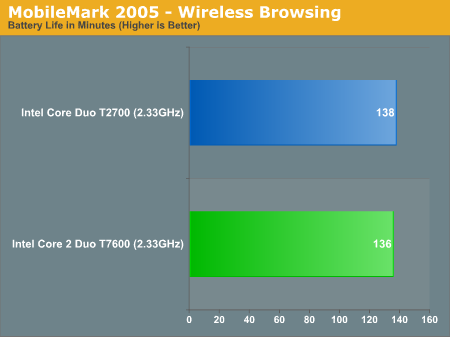 In our final battery life test, the Core 2 Duo T7600 actually falls behind its Core Duo counterpart by 2 minutes, but the margin of error for battery life tests is usually at least 1%, so overall battery life is essentially identical.