Final Words
What else can we say? Both drives performed very well and followed certain patterns throughout testing based upon their design and target audience. While the overall performance of the drives placed them consistently in the middle of our test group, this should not be surprising considering the competition. These two drives are designed for single user desktops where storage capacity, thermals, cost, and acoustics are just as important as performance.
The
Western Digital Caviar SE16 WD3200KS
offered the best acoustics of any drive we have tested to date along with excellent thermals considering the performance of the drive. Speaking of performance, the drive in our IPEAK tests was at times near the bottom of the group and usually trailed the Seagate 320GB drive except in the game play, general business, and applications where heavy read requests were prevalent. In our platform applications tests the Western Digital drive performed admirably with excellent results in the game load tests and was close enough to the Seagate 320GB drive in the other tests that you could call a tie unless you consider the warranty terms. We are generally very impressed with the Western Digital SE16 series of drives and look forward to testing their 500GB version shortly.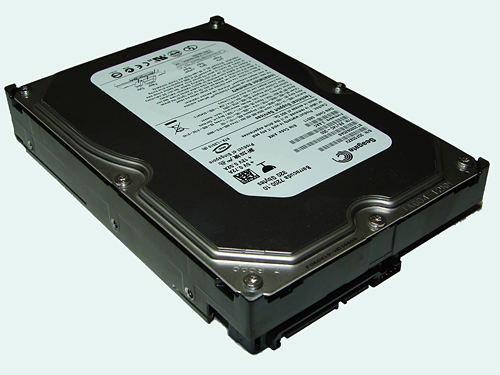 The
Seagate Barracuda 7200.10 320GB
drive offered competitive acoustics and thermals while bettering its big brother 750GB drive. In fact, during both the acoustic and thermal testing we thought Seagate had provided us a different drive family as the difference between them was very noticeable. We also purchased a Seagate 7200.10 320GB drive for follow up testing and had the same results even though our retail drive was manufactured in China. It appears to us a change has occurred within Seagate's process as our newly received 750GB drive does not exhibit the same thumping sound as our earlier drives while it operates about 3 degrees cooler overall. Initial testing also shows minor improvements in our benchmarks. The one issue we have with the Seagate 7200.10 family is a continuing performance pattern where read or write requests that are not sequential in nature end up adversely affecting performance. While this performance issue is magnified in our IPEAK tests that measure pure hard drive performance, it is tempered somewhat in the platform application tests.
What is our recommendation? If you are looking for a very quiet and thermally advantaged high capacity drive then the Western Digital Caviar SE16 WD3200KS should be on your short list. The drive also offered very good game play performance and was able to make a strong showing in the general business application benchmarks. If you are looking for a drive that offers slightly better overall performance and excels in most desktop and multimedia applications while offering competitive acoustics then the Seagate Barracuda 7200.10 320GB drive should be at the top of your list.
In the end we have to declare a winner so we took the fact both drives are selling for around $99 in their OEM version (incredible value for 320GB) and bounced that against their performance and still ended up in a situation where you win with either drive. However, after tallying up the points we noticed the deciding factor would be the warranties offered by each company. Seagate offers a full five year warranty while Western Digital offers three years on their OEM drives and one year on their Retail drives with a $14.95 charge for two additional years. Based upon this information, we are going to declare the Seagate our winner on a technical knockout.