Application Performance using SYSMark 2004 SE
We'll kick off our look at general application performance with SYSMark 2004 SE and as always, we'll look at the overall score as well as the scores in each of the two suites - Internet Content Creation and Office productivity.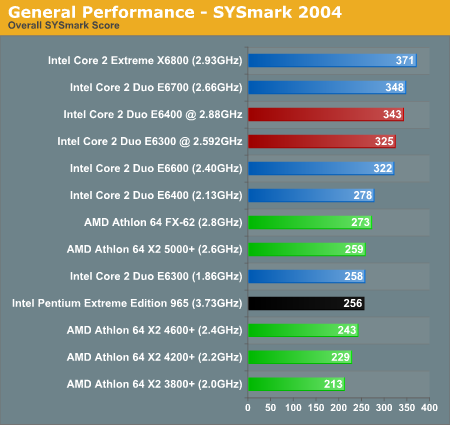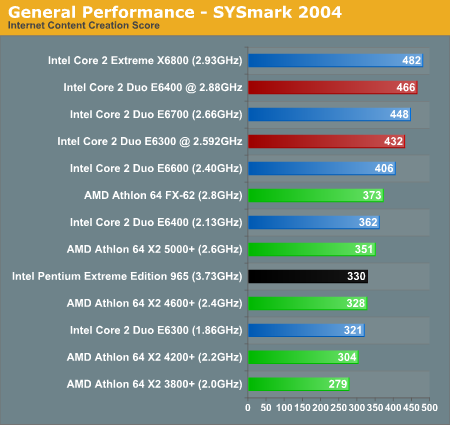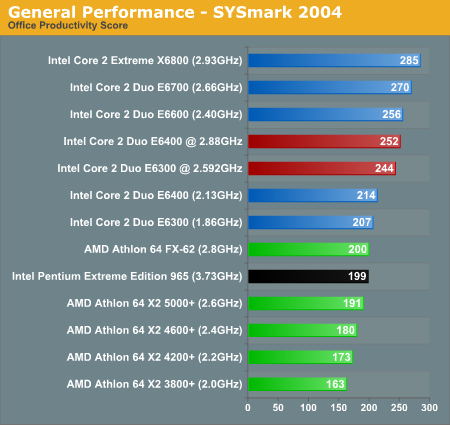 The applications tested by SYSmark 2004 cover the vast majority of the modern computing spectrum. Everything from multimedia to office to multitasking performance is included, and while not every application will show a substantial performance increase with a faster processor, the overall performance spread among the tested CPUs is almost 75%. If you routinely do a lot of computationally intensive work on your system (surfing the web and writing email generally don't count), there's no question that you will see a substantial difference between the fastest and slowest systems we're testing.
Our first look at the E6300/E6400 with overclocking generates some interesting results. There has been speculation that one of the reasons Core 2 Duo chips perform so well is that they have so much L2 cache. Dropping from 4 MB to 2 MB of cache does hurt performance a bit, but with a little bit of overclocking both of our budget Core 2 Duo chips perform very well. The net loss appears to be about 200 MHz, so the 2.88 GHz E6400 roughly equals the 2.66 GHz E6700, and the 2.59 GHz E6300 roughly matches the 2.4 GHz E6600. Drilling down into the individual benchmark results for SYSmark 2004, the impact of the reduced cache is more apparent in Office Productivity applications than it is in the Internet Content Creation results, but the 2MB Core 2 chips preform respectably regardless of the application being tested. Perhaps a Core 2 with 1MB or less of L2 wouldn't perform all that well, but since those parts don't exist there's no reason to worry about hypothetical bottlenecks right now.
Switching over to the AMD versus Intel comparisons, the E6300 and E6400 already compete very well, and once we throw in overclocking they are basically out of reach of any of the AM2 processors -- with or without overclocking. In overall score, the overclocked E6300 is almost 20% faster than the FX-62. A 20% overclock of the FX-62 (3.33 GHz) might close the gap, but it would certainly require more than stock air cooling, and it doesn't change the fact that we are able to get extremely good performance out of Intel's $180-$220 parts.
The individual SYSMark 2004 SE scores are graphed below if you're interested; the data is used in calculating the overall scores we've already discussed above: