3D Rendering Performance using 3dsmax 7 & CineBench 9.5
We're looking at 3D rendering performance using two different applications: 3D Studio Max and Cinebench 9.5. Cinebench is a free performance testing utility based off of the CINEMA 4D R8 rendering package. Our scores from 3D Studio Max are a composite score from four rendering tests: CBalls2, SinglePipe2, UnderWater, and 3dsmax5 Rays.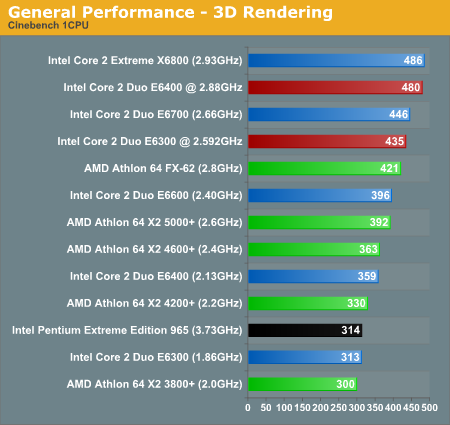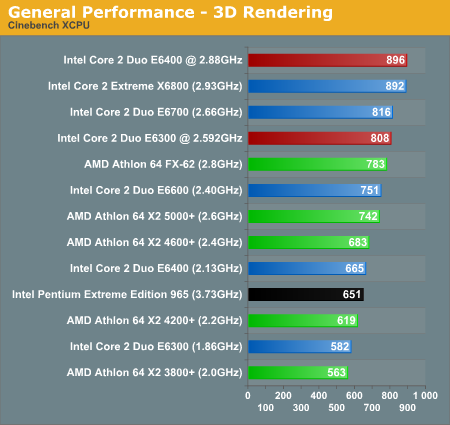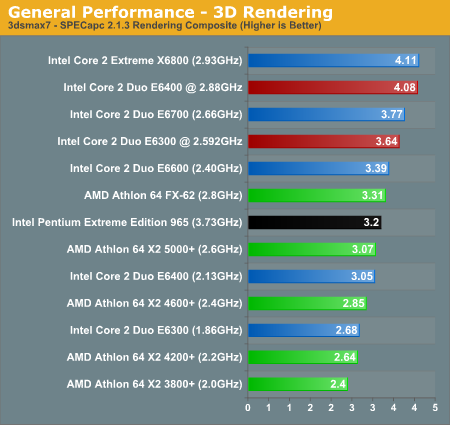 3D rendering relies almost entirely on CPU performance, and cache sizes have very little impact. The end result is that our overclocked E6300 and E6400 place very near the top of the charts, and the overclocked E6400 actually manages to take the lead over the X6800 in the Cinebench multi-CPU rendering test. Clock for clock, Core 2 Duo holds about a 9-11% performance advantage in 3D rendering over the AMD X2 processors. The difference between the fastest and slowest systems tested here is roughly 60%-70%, and due to the time-consuming nature of 3D rendering even small performance increases are very welcome.
Once again we see that while the Core 2 Duo E6300 is slightly faster than the Athlon 64 X2 4200+, and once overclocked it's out of reach of even an FX-62. The E6400 is also an impressive little chip, offering performance around the X2 4600+ and X2 5000+ levels.