L2 Cache: 4MB or 2MB?
The majority of Intel's Core 2 Duo line feature a single shared 4MB L2 cache, but the E6300 and E6400 are only equipped with a 2MB cache. Given that the Core 2 Duo doesn't have an on-die memory controller, it is more dependent on larger caches than AMD's Athlon 64 X2, which raises the question - how big of a difference is there between the 2MB L2 and 4MB L2 parts?
Our Core 2 Extreme X6800 (2.93GHz) part, like all X6800s, is unlocked so we could simulate any other Core 2 Duo clock speed with it. We managed to get our hands on a Core 2 Duo E6300 (1.86GHz/2MB) and we were in business.
The graph below features all of the benchmarks we ran on the processors in this review, showing the percent performance improvement from a Core 2 Duo E6300 (1.86GHz/2MB) to a hypothetical 1.86GHz Core 2 Duo with a 4MB L2 cache. The bar labeled "Average" is simply an average of all of the performance improvements graphed on the chart.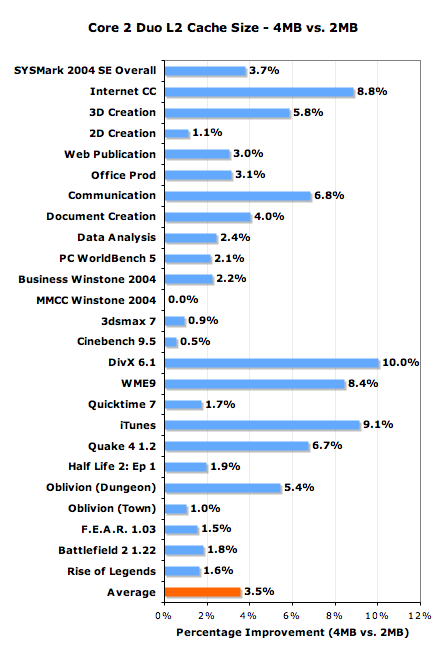 The 4MB L2 cache can increase performance by as much as 10% in some situations. Such a performance improvement is definitely tangible, and as applications grow larger in their working data sets then the advantage of a larger cache will only become more visible. Unfortunately, you do pay a price premium for this added performance and future proofing as the cheapest 4MB L2 part is the E6600 priced at $316.
If you're the type to upgrade often, then the extra cache is not worth it as you're not getting enough of a present day increase in performance to justify the added cost. However, if this processor will be the basis for your system for the next several years, we'd strongly recommend picking a 4MB flavor of Core 2.