Gaming Performance using F.E.A.R. & Rise of Legends
Our F.E.A.R. test should be fairly familiar by now, as it is the built in performance test included with the game. Computer settings were left at "Maximum" while the graphics settings were set to "High" with the resolution cranked up to 1600 x 1200. F.E.A.R. ends up still being more GPU than CPU bound at these settings, even with a pair of X1900 XTs at its disposal, but we do see some separation among the processors: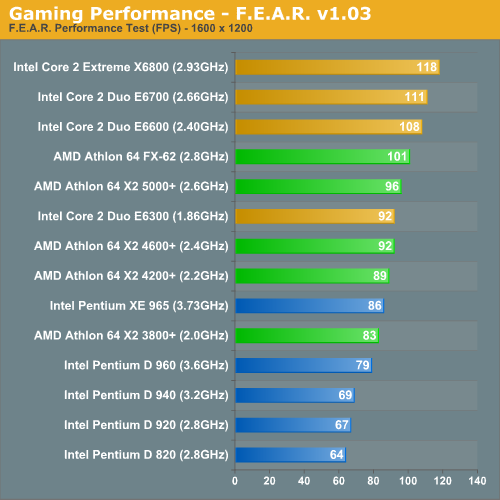 The top three spots still go to the top three Core 2 CPUs, with the E6300 falling around the level of the X2 4600+. A trend that we've been seeing all throughout this review is that the performance of these CPUs effectively falls into three groups: Core 2 processors at the top, Athlon 64 X2s in the middle and Pentium D at the very bottom of the charts. In a sense that's the easiest way to classify these three groups of processors: if you want the fastest it's Core 2, mid-range goes to the Athlon 64 X2 and if you don't like good performance there's always the Pentium D.
Rise of Legends is a newcomer to our game benchmark suite and what an excellent addition it is. This Real Time Strategy game looks very good and plays well too; it serves as good filler until the next Command & Conquer title eventually arrives for those looking for a RTS fix. We ran with the resolution set to 1600 x 1200 and the graphics settings set to the medium defaults. We recorded a custom playback of a 3 vs. 2 multiplayer battle and played it back at 4x speed, recording the average frame rate for 10 minutes of the battle. The 10 minutes we focused on contained a good mix of light skirmishes between opponents, base/resource management with very few characters on the screen and of course some very large scale battles.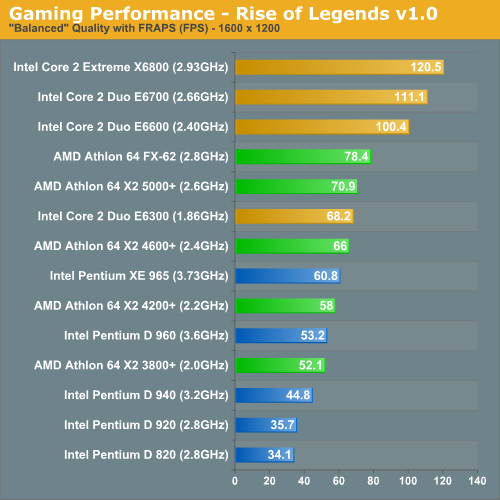 As with most RTSes, Rise of Legends is extremely CPU bound. The performance variability between runs was fairly high in this test, mainly because of how disk intensive the playback can get. Differences in performance of up to 5% should be ignored, but the standings are correct - the Core 2 line of processors absolutely demolish the competition: you're looking at true next-generation CPU performance here. The E6300 isn't nearly as impressive when compared to its more expensive siblings, but when you compare it to AMD's lineup it looks very good, especially considering its proposed cost.