FSB Bottlenecks: Is 1333MHz Necessary?
Although all desktop Core 2 processors currently feature a 1066MHz FSB, Intel's first Woodcrest processors (the server version of Conroe) offer 1333MHz FSB support. Intel doesn't currently have a desktop chipset with support for the 1333MHz FSB, but the question we wanted answered was whether or not the faster FSB made a difference.
We took our unlocked Core 2 Extreme X6800 and ran it at 2.66GHz using two different settings: 266MHz x 10 and 333MHz x 8; the former corresponds to a 1066MHz FSB and is the same setting that the E6700 runs at, while the latter uses a 1333MHz FSB. The 1333MHz setting used a slightly faster memory bus (DDR2-811 vs. DDR2-800) but given that the processor is not memory bandwidth limited even at DDR2-667 the difference between memory speeds is negligible.
With Intel pulling in the embargo date of all Core 2 benchmarks we had to cut our investigation a bit short, so we're not able to bring you the full suite of benchmarks here to investigate the impact of FSB frequency. That being said, we chose those that would be most representative of the rest.
Why does this 1333MHz vs. 1066MHz debate even matter? For starters, Core 2 Extreme owners will have the option of choosing since they can always just drop their multiplier and run at a higher FSB without overclocking their CPUs (if they so desire). There's also rumor that Apple's first Core 2 based desktops may end up using Woodcrest and not Conroe, which would mean that the 1333MHz FSB would see the light of day on some desktops sooner rather than later.
The final reason this comparison matters is because in reality, Intel's Core architecture is more data hungry than any previous Intel desktop architecture and thus should, in theory, be dependent on a nice and fast FSB. At the same time, thanks to a well engineered shared L2 cache, FSB traffic has been reduced on Core 2 processors. So which wins the battle: the data hungry 4-issue core or the efficient shared L2 cache? Let's find out.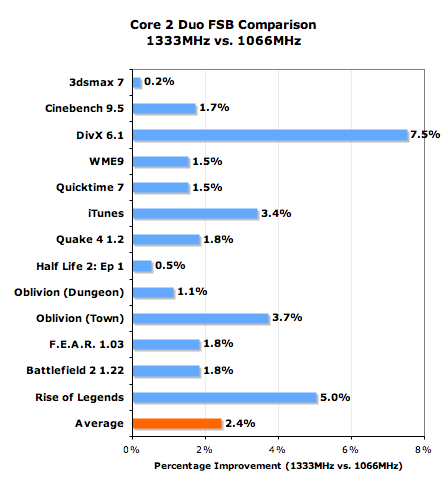 On average at 2.66GHz, the 1333MHz FSB increases performance by 2.4%, but some applications can see an even larger increase in performance. Under DivX, the performance boost was almost as high as going from a 2MB L2 to a 4MB L2. Also remember that as clock speed goes up, the dependence on a faster FSB will also go up.
Thanks to the shared L2 cache, core to core traffic is no longer benefitted by a faster FSB so the improvements we're seeing here are simply due to how data hungry the new architecture is. With its wider front end and more aggressive pre-fetchers, it's no surprise that the Core 2 processors benefit from the 1333MHz FSB. The benefit will increase even more as the first quad core desktop CPUs are introduced. The only question that remains is how long before we see CPUs and motherboards with official 1333MHz FSB support?
If Apple does indeed use a 1333MHz Woodcrest for its new line of Intel based Macs, running Windows it may be the first time that an Apple system will be faster out of the box than an equivalently configured, non-overclocked PC. There's an interesting marketing angle.