We are almost finished with Computex coverage; the show may have ended more than a week ago, but there are so many products to see and talk about that it's nearly impossible to cover them all. Today we will be looking at more motherboards and a few notebooks we saw in our visits to the various manufacturers, with our final Computex article centering around cooling and external storage products.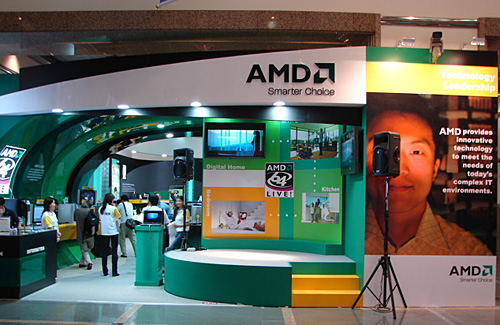 While Intel was very noticeable throughout the entire Computex area and officially launched their i965 chipset from the 84th floor of Taipei 101,
AMD
did not miss any opportunities to be noticed also. Besides the majority of motherboard suppliers featuring new AM2 products along with Server motherboards featuring the Opteron series, AMD provided a very nice showcase area for some of their recent product introductions including a strong showing by several notebook suppliers with Turion 64 X2 based systems. This impressive mobile processor series should give the Intel Core Duo series of processors a good run for its money and we look forward to reviewing a production ready Turion 64 X2 notebook shortly.
Motherboard Products:
ASRock
You can always count on
ASRock
to launch several interesting products in the very competitive under US $100 motherboard market. While the majority of products we viewed were either product refreshes for AMD AM2 or board updates for Core 2 Duo compatibility they still had a surprise or two at the booth. ASRock is one of the few motherboard suppliers who aggressively designed products that have an HDMI capable interface and are Windows Vista Premium ready.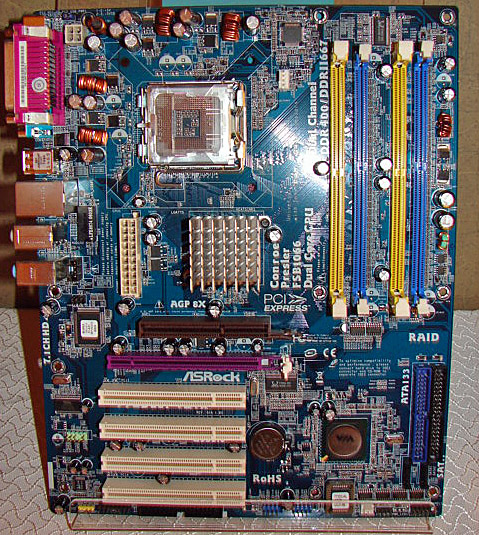 The 775Dual-VSTA is Core 2 Duo ready and is based on the VIA PT880 PRO chipset while featuring support for both DDR2 and DDR memory along with PCI-E or AGP graphics capability.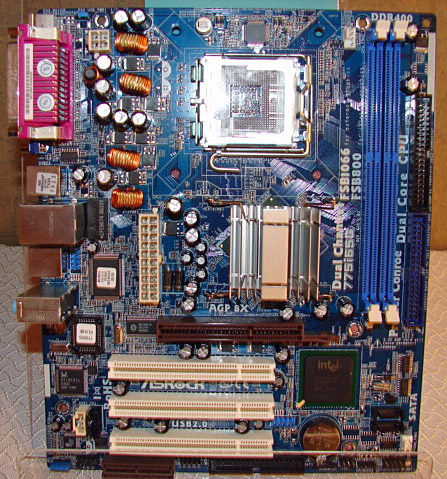 The 775i65G is Core 2 Duo ready and is based on the Intel 865G chipset while featuring support for DDR memory along with 8X AGP or on-board Intel Extreme Graphics 2 capability. While most people would not pair a new Core 2 Duo with a board like this we find it interesting that the i865 chipset fully supports "Conroe" and if this board is capable of running DDR memory at the very low latencies of 2-2-2-7, then it very well might surprise some of the newer boards in CPU and memory performance. We should have a sample soon and will see if ASRock has endowed the board with some interesting bios capabilities. Of course, Core 2 Duo on an older chipset is all well and good, but don't expect this to be a gaming powerhouse platform given the lack of truly high-end AGP graphics cards.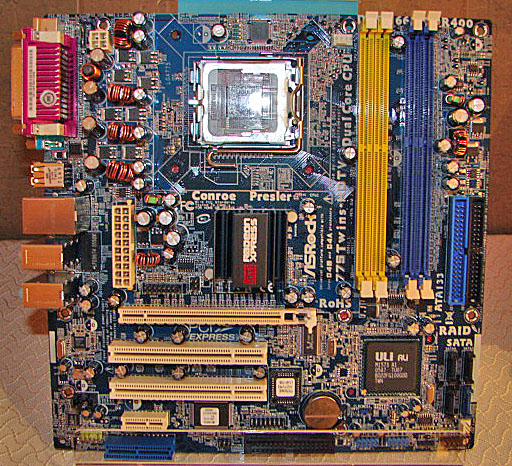 The 775Twins-HDTV R2.0 board is fully Core 2 Duo capable and features the ATI Radeon Xpress 200 / ULi M1573 chipsets. The board ships with a VGA-HDTV panel that has component video output allowing it to connect to most current HDTVs.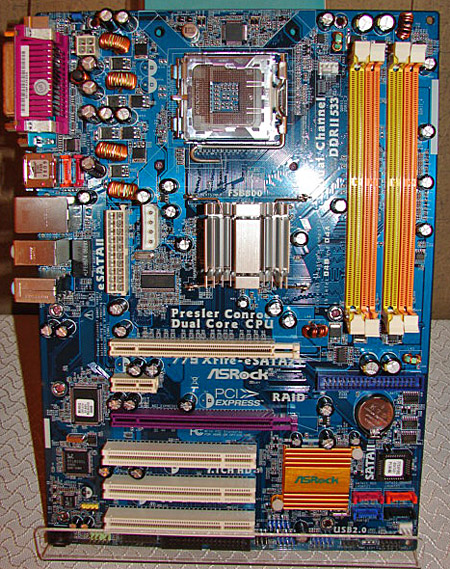 The 775XFire-eSATA2+ is based on the Intel 945PL and ICHR7 chipsets and is Core 2 Duo ready along with the capability to fully support ATI CrossFire. The second X16 PCI Express slot also fully supports PCI-E X4, X2, and X1 cards. The board also features two eSATA ports along with an HDMI S/PDIF header.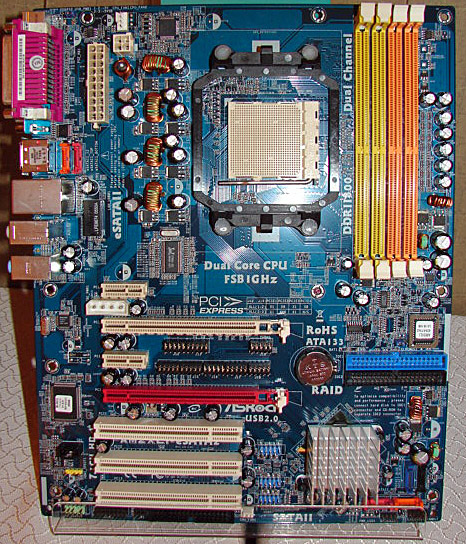 The AM2XLI-eSATA2 is based on the ULi M1697 chipset and fully supports the AMD AM2 product family. The second physical X16 PCI Express slot (X8 capable) supports PCI-E X4, X2, and X1 cards. The board also features two eSATA ports along with the HDMI S/PDIF header. Although ASRock does not mention NVIDIA SLI support on this board as on their previous
ULi
based boards, we are happy to report that if you still have the ULi SLI enabling driver and the NVIDIA 81.98 driver set then the board will provide X8 SLI capability, though this is not sanctioned or approved by NVIDIA.