Driver Menu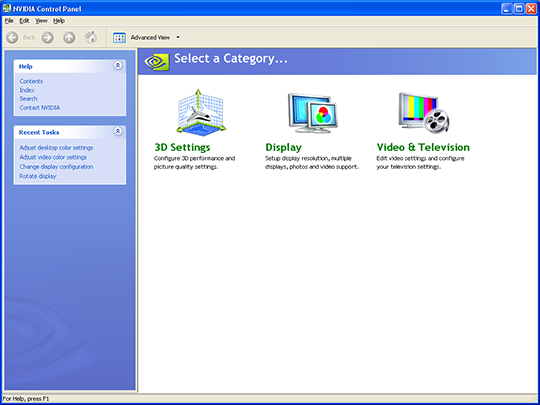 Click to enlarge
The settings in the 90 series drivers are laid out in three sections displayed clearly on the main menu. We can see how much more "windows-like" the interface is, particularly with the help options on the left, and a section under that to list recently accessed settings for easier navigation. Note that we used the Coolbits registry tweak to allow access to certain advanced settings like overclocking.
3D Settings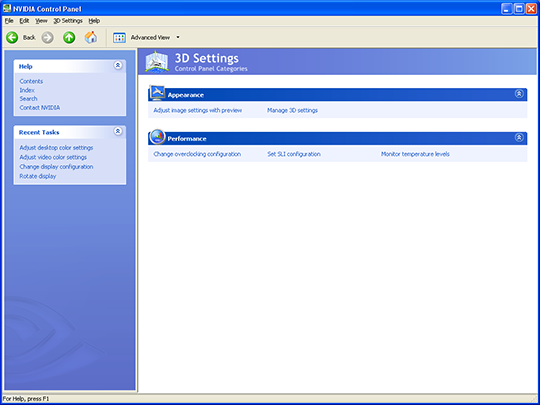 Click to enlarge
Under the first selection, we see what options are available under 3D Settings, split into two sections, appearance and performance.
Adjust Image Settings With Preview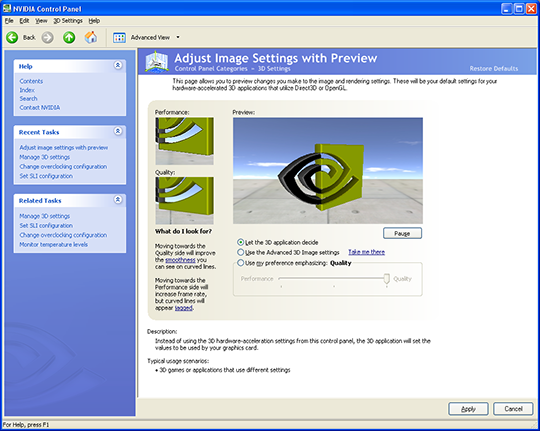 Click to enlarge
This section gives a very nice 3d rendered live preview to allow for intuitive graphics tweaking, much like ATI implemented in their current Catalyst Control Center interface. One notable difference between ATI's preview and NVIDIA's however is that the 3D preview pops up without any noticeable lag, while ATI's can take several seconds to render once selected.
Manage 3D Settings
Click to enlarge
This section is basically the same as the old control panel's application profiles under the "Performance and Quality" section.
Change Overclocking Configuration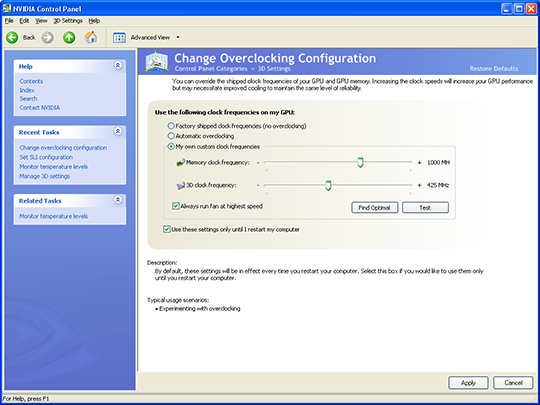 Click to enlarge
Here we see a slightly simplified overclocking menu to manually set your core and memory clock speeds. The earlier 91.27 Beta drivers didn't allow the option to save the settings, and we're glad to see that has been fixed with the official 91.31 Beta release.
Set SLI Configuration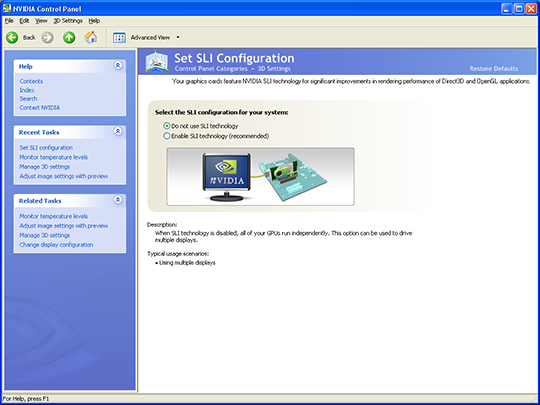 Click to enlarge

SLI can be enabled/disabled if appropriate cards are installed through this panel. Oddly enough, a reboot was required to enabled SLI on at least one of our systems, which was not necessary with previous drivers. This only happened once, however, so we're not sure what triggered the reboot dialog.
Monitor Temperature Levels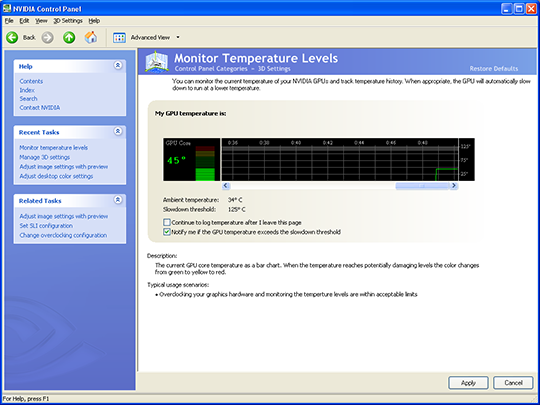 Click to enlarge
Something very interesting about this new NVIDIA driver is that it offers much more extensive temperature monitoring, even going so far as to allow you to log your heat levels while running programs with the driver control panel closed. This is good for those who for whatever reason want to keep close tabs on the heat level of their NVIDIA solutions. Such functionality was previously available through the separate nTune utility, but it's nice to see it integrated directly into the new drivers.
The driver will log your heat levels for the last hour, and an option can be selected to notify if the heat levels have exceeded a certain threshold as well. This section shows potential, but unfortunately, logging your heat levels while gaming causes a significant performance hit, and we experienced about a 10 fps loss in Quake 4 with this option turned on (62.7 verses 71.0 fps). This means that while it won't be practical to leave the heat logging option turned on all the time, it is still a good diagnostic tool for purposes such as overclocking and monitoring cooling conditions.