Introduction & Manufacturing
AMD held its spring Analyst Day on Thursday, and we were able to sit down and enjoy the webcast. While we fully expected to learn about AMD's next CPU architecture, K8L, we were pleasantly surprised to find a few unexpected extras. The event covered a huge swath of the computing industry in a manner that went just deep enough to leave us screaming for more. Unfortunately, we don't have all the answers we wanted today, but we do have some good ideas about what we'll be seeing in the near future about AMD's upcoming technology.
As could be expected, the day started off with an overview of AMD's fabrication strategies. In the near term, AMD is transitioning from 200mm wafers for its 90nm SOI process to 300mm wafers. This will help serve to get AMD up to speed with 300mm wafer before volume production of 65nm devices begins. As 200mm wafer production is phased out, 65nm processes will be ramping into full swing. AMD plans on an aggressive schedule for transitioning to the smaller process technology, and an even more aggressive schedule for pushing out 45nm technology after this product cycle. As of now, AMD plans to introduce production 45nm silicon only 18 months after 65nm hardware hits the market.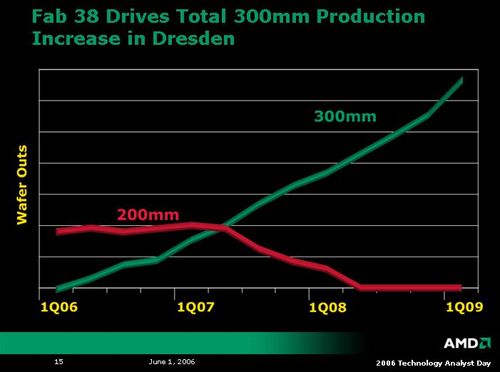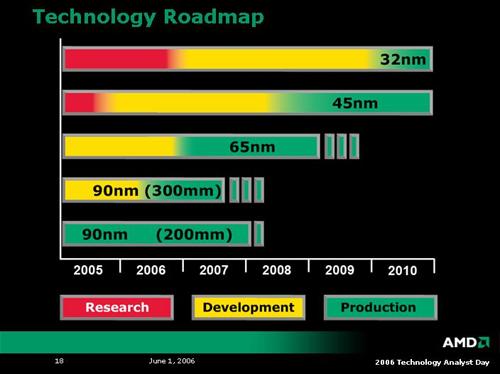 In moving to 65nm, AMD has adopted a strategy of constant improvement of its current transistor technology to ensure a smooth transition. The last generation 90nm parts will overlap the first generation 65nm parts, as many of the key features of their structures will be shared. AMD calls this Shared Transistor Technology and Continuous Transistor Improvement. As small improvements are made over the entire life cycle of a process, the final transition from one type of process to another is made much easier.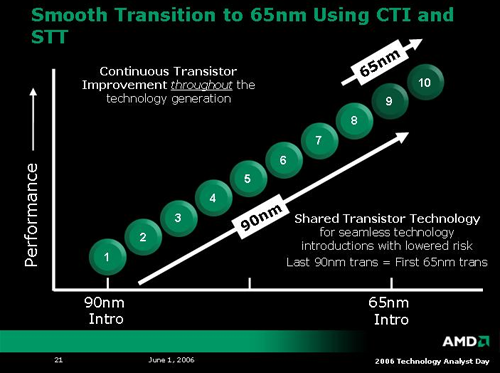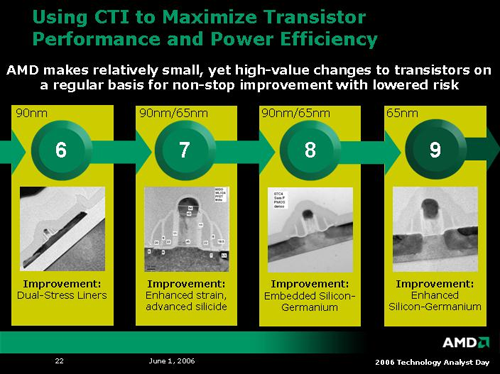 After AMD showed off a bunch of slides about how their fab is better than your fab, they started to touch on a few topics that really get our groove on: platform architecture. AMD introduced three new platform initiatives, and talked a little bit about their K8L architecture. First we'll talk about the direction AMD is moving with their platform technology.