Basic Features
This board is designed around Intel's flagship i975X chipset with one purpose in mind, the ability to let your Core Duo or Solo processor reach its maximum potential while still maintaining the low noise and power consumption benefits of this impressive processor series. It is the only true ATX size board on the market at this time featuring a non-mobile chipset for the Intel Core Duo/Solo series processors.
If our test results are a true indication of the performance potential of the upcoming Conroe and Merom processors, then we foresee a sizable interest within the AMD community for taking another look at Intel based products in the near future. The Conroe/Merom processors should realize a performance improvement of around 15% above the current AMD lineup. An excellent overview of the Core architecture and comparison to the current AMD offerings is located here - Intel Core versus AMD K8 by Johan De Gelas.
If nothing else, the overall platform performance of the Intel Core Duo and AOpen i975Xa-YDG should convince anyone seriously considering building an ultra quiet performance oriented game or HTPC system to think at length about purchasing this combination.
AOpen i975Xa-YDG
Component
Description
CPU Interface
Socket 479 - Intel Core Duo or Core Solo
Chipset
Intel 975X - Northbridge
Intel ICH7 - Southbridge
Front Side Bus
667 / 533 MHz
CPU Clock
166MHz ~ 199MHz in 1MHz increments
Jumper change allows 200MHz ~ 320MHz in 1MHz increments
Memory Speeds
Auto, 533MHz, 667MHz, standard multipliers apply to overclocks
PCI Bus Speeds
Locked
PCI Express Bus Speeds
Auto, 100MHz ~ 160MHz in 1Mhz increments
Set Processor Multiplier
Locked to CPU
Core Voltage
Auto, .7375V to 1.5000V in 0.0125V increments
DRAM Voltage
Auto, 1.80V to 2.15V in .05V increments
Northbridge Voltage
Auto, 1.525V, 1.575V, 1.625V, 1.675V
PCI-E Voltage
Auto, 1.500V ~ 1.700V in various increments
Memory Slots
(4) x DIMM, max. 4GB, DDR2 667/533, non-ECC or ECC support
Expansion Slots
(2) x PCI-E x16
(operates in 2x8 mode in dual graphics or CrossFire mode)
(2) x PCI-E x1
(2) x PCI 2.3
Onboard SATA
Intel ICH7 - Southbridge
(4) x SATA 3Gb/s
JMicron- JMB360
(1) x External SATA 3Gb/s
Onboard IDE
Intel ICH7 - Southbridge
(1) x 100/66/33
ITE IT8212 IDE
(1) x 133/100/66/33
IDE RAID
ITE IT8212 IDE
(2) x 133/100/66/33
RAID 0, RAID 1, RAID 0+1
Onboard USB2.0
(8) USB2.0 ports
Onboard IEEE-1394
Agere 1394A - FW3226-100
Onboard LAN
Marvell 88E8053 PCI-Express x1
Onboard Audio
Realtek ALC-880, 8-channel capable High Definition Audio
Power Connectors
24-pin ATX
4-pin 12V
4-pin ATX 12V
Back Panel I/O Ports
1 x PS/2 Keyboard
1 x PS/2 Mouse
1 x IEEE-1394
1 x External SATA 3Gb/s
1 x Optical S/PDIF - In
1 x Optical S/PDIF -Out
1 x Audio I/O Panel
1 x RJ45
4 x USB
Other Features
(C.O.O.) - Code of Overclocking System
AOConfig - Windows based System Information Utility
EZ Skin - Windows based Jukebox Player
C.O.O. Paradise Utility - Windows based utility for Remote Control, real time information
Remote Control - I.R. based remoter control unit for basic media player, on/off, and FSB overclocking control
EZWin Flash - Windows Based Bios Update Program
BIOS
1.03b
The AOpen i975Xa-YDG is a member of AOpen's Mobile on Desktop Technology Series product family and as such is a board targeted towards both the HTPC and enthusiast user. The board ships with an accessory package that includes the standard assortment of IDE/SATA cables, power connectors, CPU heatsink/fan, and a unique Remote Control unit. AOpen also includes a driver CD along with several desktop utilities for Windows based monitoring and tuning of your system.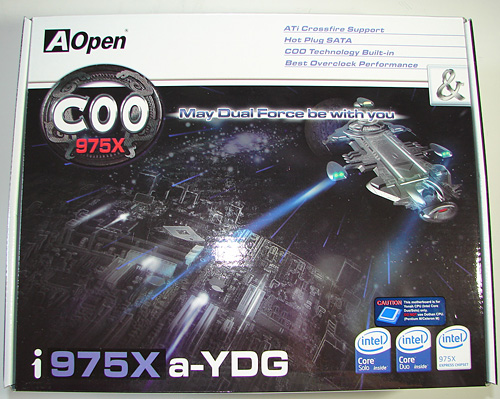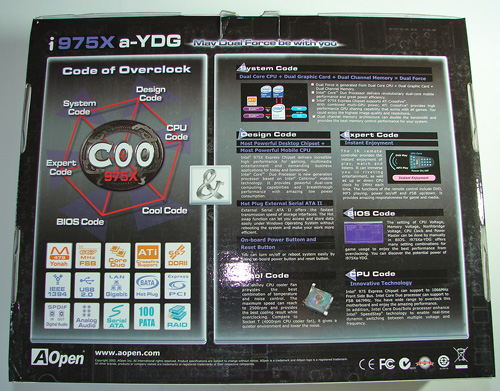 AOpen ships the motherboard and related components in an eye catching box that certainly plays on the Star Wars theme. We will find out shortly if this board is truly worthy of Darth Maul status or if we have another Jar Jar Binks wannabe in the labs.