Introduction
I knew a man once that always liked to say, "dreams are free." What he basically meant is that it's okay to talk about things that you will probably never have; that you can still have hopes of achieving great things in life regardless of your current situation. That's a good introduction to this article, because the simple fact of the matter is that few of us are likely to purchase a Falcon Northwest computer, just like there are few people that will buy (or even sit in) a Lamborghini during their lifetime.
Falcon Northwest has been in the business for almost 15 years (since 1992), always catering to the high-end enthusiast. In fact, high-end enthusiasts are a step below what Falcon offers, as many of us might actually purchase a high-end system. What Falcon Northwest offers is better classified as exotic systems, and if you want to go there they can create truly unique looking designs for you. Custom paint jobs that can cost over $1000 are available - you can even send in the pictures that you want painted on the case!
The cheapest systems start at around $1500 for just the system (i.e. no keyboard, mouse, monitor, or speakers), and prices can reach over $10,000 if you want to go all out. We really do mean "all out" for such a system: Quad-SLI, 30" LCD, 2x400GB RAID 0 HDDs, custom paint - the works. Do you need something like that? Almost certainly not. Would you lust after such a system, though? Some of you might not, but most of us geeks dream of having that much computing power at our fingertips.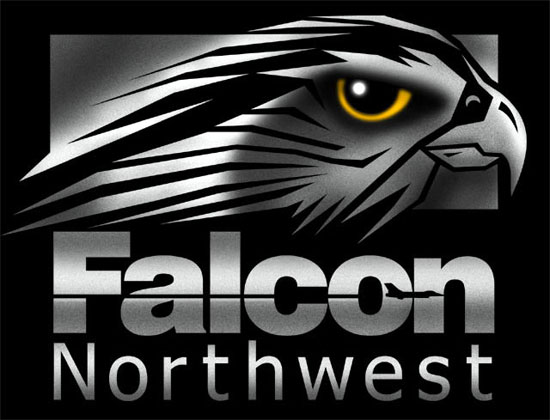 Kelt Reeves, president of Falcon Northwest, likes to describe his company as the "anti-Dell". Dell sells millions of computers each year at pretty reasonable prices, all offering decent performance for the home and business user but usually nothing truly stand out. Dell systems are basically cookie-cutter designs: if you and hundreds of other people all go out and buy the latest Dimension system for $1000 from Dell, they'll all be close to identical - only their internal components might differ. Falcon Northwest on the other hand doesn't look to sell millions or even thousands of computers per month. Their goal is to offer a fully customized, ultra high performance computer that qualifies as something of a status symbol. Their target market is fundamentally limited, as they're looking for people that want the best money can buy, with cost being a distant concern.
Needless to say, it's pretty exciting to open up the packages from Falcon Northwest, and the all-black boxes with silver logos already start to give you the impression that you're opening something out of the ordinary. It's not every day you get to test a system that costs over $5,000, even if you write for AnandTech, and while most of us are more than capable of building a super high performance system on our own, we're still interested to see how one of the top boutique system builders does when it comes to putting together a dream computer. $5,000!? Yes, this is a very expensive system, and we certainly don't recommend that most people go out and spend that much money on a computer. You could build two great systems on your own for that much money, or you could build five moderate systems for the same price. The thing is, there are plenty of people with money that don't have the time to build or inclination to learn how to put together a hot rod computer. That, in a nutshell, is the target market of Falcon Northwest.
The unit that they sent for review is their latest FragBox SLI offering, and it's similar to the
Monarch Hornet Pro
that we reviewed a couple months ago. In fact, the two systems share the same motherboard. The primary difference is that Falcon Northwest has upgraded several parts, due mostly to the recently launched NVIDIA 7900 GTX. The goal of the system is to offer all of the performance that you can get in a regular desktop system, only put it in a smaller case. Ideally, if you were to call up Falcon Northwest to place an order, the only major difference between the FragBox SLI that we are reviewing and their Mach V offerings is going to be the size of the case and motherboard - which also means the expansion options. We'll run some benchmarks against a desktop system (not from FNW) to see whether or not they succeed in that goal.