The Test and Power
For our test setup, we are using two different 2x x16 ASUS boards: one based on NVIDIA and the other ATI core logic. For all tests with NVIDIA GPUs we used the NVIDIA motherboard, and for all tests with ATI GPUs we employed the ATI based motherboard. All power tests were performed using the same motherboard (the RD580 board).
In an attempt to keep everything readable and manageable, we have split up the high end and mid range comparisons. Our high end parts will be compared at 1280x1024, 1600x1200, 1920x1440, and 2048x1536. The mid range comparison will look at 1024x768, 1280x1024, and 1600x1200. All SLI and CrossFire tests will be included with the high end data.
Test Setup:
ASUS A8N32 NVIDIA nForce 4 X16 SLI Motherboard
ASUS A8R32 ATI RD580 Motherboard
AMD Athlon 64 FX-57
2GB OCZ 2.5:3:3:8 DDR400 RAM
160GB Seagate 7200.7 Hard Drive
600W OCZ PowerStream PSU
Drivers:
NVIDIA ForceWare 84.17 (Beta)
ATI Catalyst 6.2
For power consumption, we once again take a look at the power draw of the system at the wall using our trusty Kill-A-Watt. Power load was measured while running the 3dmark06 feature tests as they tend to provide something near a worst case power load. What we see in games is usually a handful of watts lower than this. For idle power, we don't see that much difference between the high end cards, and the 7900 GT is similar in power to the 6800 GS. The 7600 GT seems to be on par with the X1600 XT for idle power.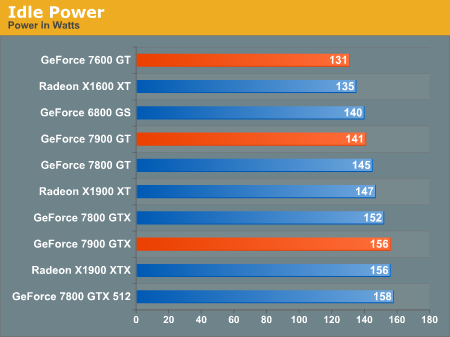 When it comes to load, the new NVIDIA parts simply clean up. The performance per watt leader in this contest is hands down NVIDIA. The 7600 GT and 7900 GT both come in at a lower power than the 6800 GS and the 7900 GTX pulls the same wattage as the much lower clocked 7800 GTX.