Basic Features: ASRock 939SLI-32 eSATA2
Specification
ASRock 939SLI32-eSATA2
CPU Interface
939-Pin Socket supporting AMD Athlon 64 / 64FX / 64X2
Chipset
ULi M1695 - North Bridge
ULi M1697 - South Bridge
Bus Speeds
150MHz ~ 400MHz in 1MHz increments
CPU Clock Multiplier
Auto, 4x ~ 25x in 1x increments
Memory Speeds
Auto, 133MHz, 166MHz, 200MHz
PCI Bus Speeds
Auto, Sync with PCI-E, 33.33MHz ~ 37.50MHz variable speed
PCI Express Bus Speeds
Auto, 75MHz ~ 200MHz in various increments
HT Multipliers
Auto, 200MHz, 400MHZ, 600MHz, 800MHz, 1000MHz
HT Link Speed
Auto, 8-bit, 16-bit
Core Voltage
Auto, 0.800V to 1.400V (in 0.025V increments), (max voltage dependent upon CPU)
DRAM Voltage
Auto, 2.55V, 2.6V, 2.7V, 2.8V (Low, Normal, High, Ultra)
Chipset Voltage
Auto, 2.10V, 2.20V (Normal, High)
Memory Slots
(4) x DIMM, max. 4GB, DDR 400/333/266, non-ECC, un-buffered memory, Dual Channel Operation supported.
Expansion Slots
(2) x PCI-E x16 (each slot operates in 1x16 mode)
(1) x PCI-E x4 (operates in x1 or x2 mode)
(3) x PCI 2.2
(1) x AM2 CPU port
Onboard SATA
ULi M1697: (4) x SATA II , (2) eSATA II (shared with SATA II)
Onboard IDE
ULi M1697: (2) x UltraDMA 133/100/66/33
SATA/IDE RAID
ULi M1697:
(4) x SATA II
RAID 0, RAID 1, RAID 0+1, RAID 5, JBOD
Onboard USB 2.0
(8) USB2.0 ports (four ports, two headers for four more ports)
Onboard LAN
Realtek RTL8111B PCI-E 10/100/1000Mb/s LAN - PHY
Onboard Audio
Realtek ALC-660, 5.1 channel capable HD Audio Codec
Onboard Firewire
TI TSB43AB22 IEEE 1394 chipset - 1394A capable
Power Connectors
20-pin ATX
4-pin ATX 12V
4-pin 12V SLI
Back Panel I/O Ports
1 x PS/2 Keyboard
1 x PS/2 Mouse
1 x Parallel (ECP/EPP)
1 x Serial (COM1)
1 x Audio I/O Panel
1 x RJ45 LAN 4 x USB 2.0
2 x eSATA II
1x IEEE 1394
Other Features
Hybird Booster - Overclocking Engine
Boot Failure Guard - Overclocking Safe Guard
United Overclocking Program - Fixed PCI-E and PCI speeds
Hardware Monitor - BIOS Based
Windows Vista Ready
ROHS Compliant
BIOS
AMI 1.0 (2/06/06)
The ASRock 939SLI32-eSATA2 is a member of the Socket 939 Series product family and is a value-based board targeted towards the enthusiast user. The board ships with an accessory package that includes the standard assortment of IDE/SATA cables and power connectors. ASRock also includes an extensive driver CD along with desktop utilities.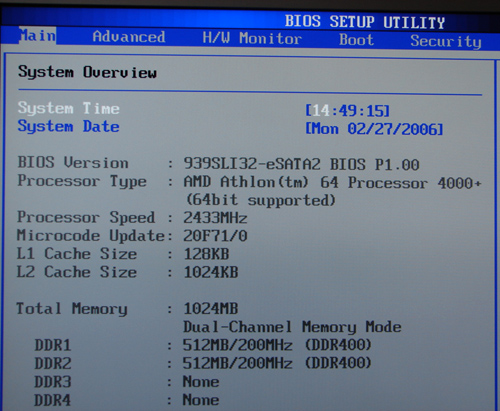 This is the BIOS setup utility screen, which displays the change configuration categories available on the board.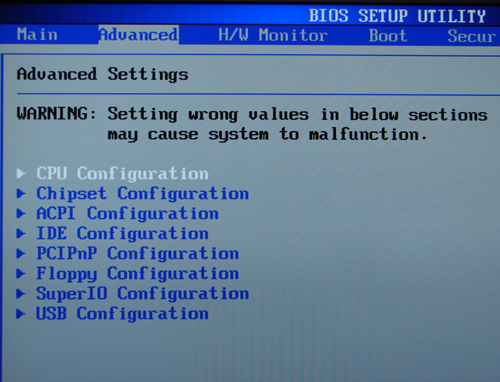 This is the Advanced BIOS category main screen that contains all of the subcategories available for setup.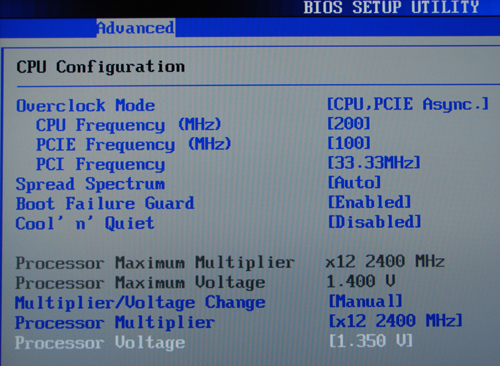 The CPU configuration section allows you to set individual parameters manually for voltage, multipliers, and chipset frequency settings. Unfortunately, one of the few issues that we had with the board was the limited CPU voltage settings. The system would not allow a setting over 1.4V for our 4000+ or Opteron 170 CPU choices. The Boot Failure Guard option is a BIOS recovery setting that allows the system to recover from errant overclocking settings. The system worked superbly as we never had to use the clear CMOS jumper.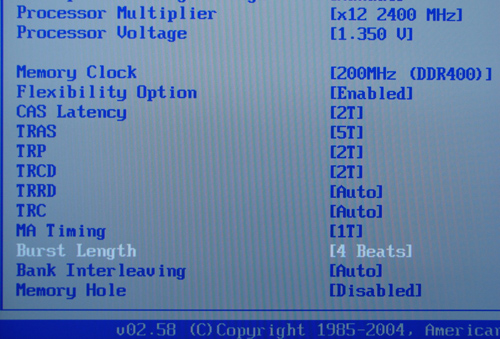 The CPU Configuration screen also contains the section for controlling memory timing adjustments. The BIOS allows for an Auto setting that will set the memory to the SPD settings or you can adjust the memory timings manually. The Flexibility Option will override the manual settings based upon the ability of the system to operate properly at the requested memory settings. We typically found in our testing that the system would adjust the memory clock settings based upon the latency settings utilized.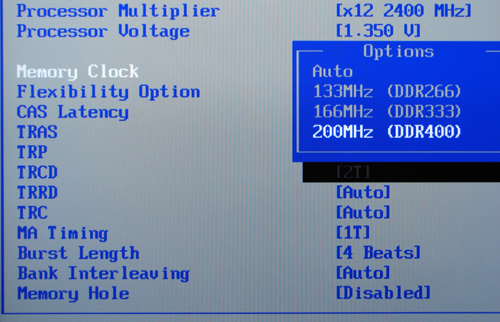 The Memory Clock settings are fairly limited on the board with the Auto setting providing an adjusted ratio dependent upon the manual memory settings and bus speeds. The other three memory settings will lock the given memory ratio to the CPU clock.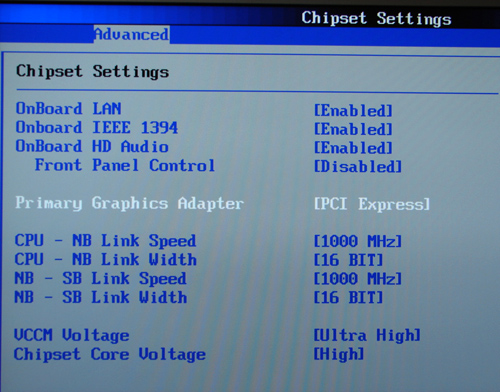 The Chipset Settings configuration screen allows you to adjust the North and South Bridge link speed and width settings. The voltage adjustments for memory and chipset are also available on this screen. The memory voltage was only adjustable up to 2.8V that definitely played a role in our overclocking results along with the limited CPU voltage settings. We also do not like the memory and chipset settings being alpha instead of numerically based.