Introduction
There are extremes to everything in life, and products are certainly not an exception - especially technology products. Earlier, we looked at one of the ends of the extremes in computer cases with Dynapowers' super-affordable E68 in addition to two more moderately-priced cases in a
price-point comparing shootout
, but this time, we're going to examine two cases at the other end of the spectrum. Barring solutions such as Zalman's TNN-500A, which attempts to handle all cooling needs for a computer on its own in complete silence, the Tai Chi by Thermaltake and Stacker 830 that we'll be looking at here represent some of the very finest in case design - and have a price to match.
We've looked at products from both of these companies for several years now, and it's apparent that they both know what they're doing. The last several models of Thermaltake's have had exceptional capacity for drives, but don't have quite the same "quality of construction" feel that cases from others like Lian Li tend to have. With their latest, that's all about to change. The Tai Chi sets a new standard for case construction and "modability", and provides the lucky few who can afford such a unit a tremendous wealth of configuration choices including wide support for multiple water cooling loops.
Cooler Master's last several cases, on the other hand, seem to be focused more on the realm of exuberant venting for the sake of cooling performance, and their latest simply takes this idea and stretches it to a new level as we're about to see. The Stacker 830 gets rid of all the difficulties of installing hardware with a vengeance - offering effective tool-less solutions and a multi-part design that are more numerous than what we've ever seen before.
For a quick overview of what each case offers, we've made up a feature chart for the two products: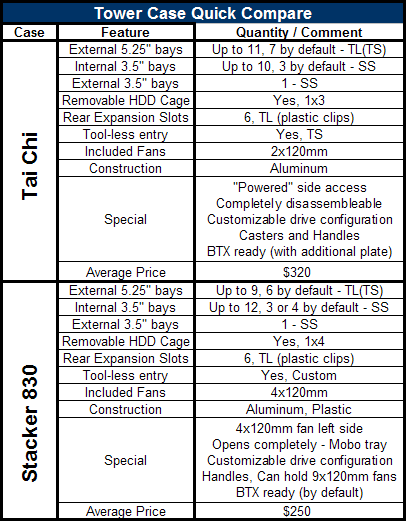 (TL: Tool-less, TS: Thumbscrews, SS: Standard Screws)
With the obvious features out of the way, let's go ahead and examine the older of the two - the Tai Chi - in more detail.