The Card
As we've already mentioned, the All-In-Wonder X1900 is based on an X1900 with lower engine and memory clocks. Essentially, the AIW X1900 has about the same clock speeds as the X1800 XL version of the AIW, with just a slightly lower memory clock (960MHz vs 1GHz). What makes the AIW X1900 much faster though is the 48 Pixel Pipelines as opposed to the AIW X1800 XL's 16. Still, the much lower clock speeds of the AIW X1900 will give it significantly lower performance than the regular X1900s, as we will see later on.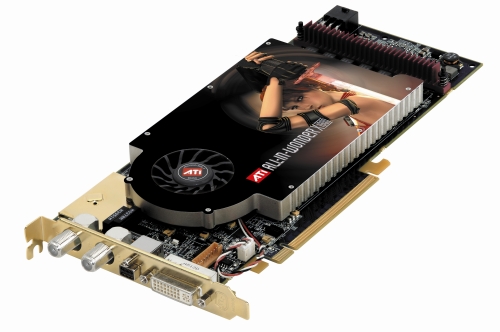 As you can see, the familiar purple and gold look is back, but despite the card's name, it bears hardly any resemblance to a standard X1900. The HSF, much flatter than even an X1800 XT, looks identical to the one on the AIW X1800 XL. All of the standard AIW connections and dongles are included, with FM and Cable TV connections above the dual link DVI-I output. The Remote Wonder is back, but has been modified to be much slimmer than previous models. Also, the software bundle includes both Adobe Premiere Elements and Photoshop Elements (Photoshop was not included with the recent X1600 based All In Wonder 2006).
Features
The features included with the AIW X1900 are about the same as those of other All In Wonder cards. Because we've covered these features in previous reviews, we will be only offering a recap of what is available. For a more detailed look at the features, take a look at the features section of the
All-In-Wonder X1800 XL article
.
Obviously, the multimedia features center around the AIW ability to record and play back video from different sources. Along with a standard set of players included in the multimedia center software, there is also the Gemstar GUIDE Plus+ that lets you download program schedules and record upcoming shows in a TiVo-esque way. The Thruview feature is here as well, which allows you to watch video that's opacity has been decreased, allowing the user to perform other tasks like writing email or web browsing at the same time. There is a CD player, DVD player, FM radio tuner and a standard file player all included, as well as the launchpad tool bar that will start up with windows for access to all of these.
The AIW X1900 is very easy to install and setup as well. This has been a consistent trait of all the AIW cards we've tested and is part of why we like these cards so much. Having the ability to record and archive your favorite shows or movies (as well as home movies) and also play the latest games at high resolutions without having to switch cards is a pretty nice feature.