AMD AM2: More than just a Memory Change
The new AMD technology refresh, now called AM2, will bring DDR2 memory to the Athlon64 on-processor memory controller. Many in the industry have speculated about the impact of this low latency memory controller on DDR2 performance, which to this point has suffered under the impact of the higher latency Intel Netburst architecture. We are looking forward to the opportunity to take a closer look at DDR2 performance on AM2 - which is everyone's big question.
There will be more than just new memory with AM2, however. We now have details on the new Socket 940 for AM2. It has been widely reported that the new Socket 940 will not be compatible with the existing Socket 940 used for Opteron and early Athlon 64.
Photos of the back of the new AM2 processor show how very close the new design is to the current Socket 940.
AM2 Processor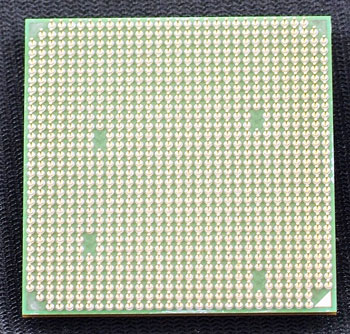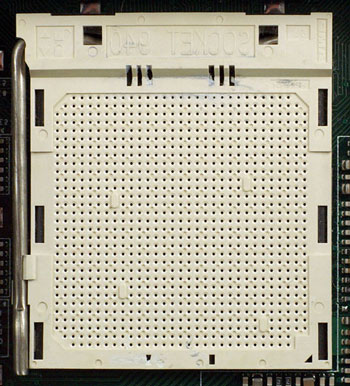 Current Socket 940 (Reversed)
By flipping the current 940 socket photo and comparing pin-outs to the back of the AM2, you can clearly see the top 2 "lands", areas without pins, are identical in the current Socket 940 and the AM2 Socket 940. However, the bottom two lands are in different locations. The bottom right land is the same 2 pins up, but 7pins form the edge instead of the 5 in the current 940 design. The left land is also in the same row position as the current 940, but it is 6 pins from the left edge instead of 8 as in the current 940 design.
The AM2 940 and current Opteron 940 are so close in design; you have to conclude that AMD could have used the same socket design. But there are numerous electrical differences and different memory is required. AMD apparently used a revised Socket 940 to prevent any possibility that AM2 chips might get accidentally mounted in current Socket 940 motherboards. That is probably a very wise decision.