The Card and The Test
As mentioned, we currently have both a 7800 GS from EVGA and the 7800 GS OC from BFG. Neither of these cards run at the default 375/1.2 clock speeds set forth by NVIDIA. For the purposes of these tests, we underclocked a card to the minimum speed that NVIDIA is endorsing. With the high clock speeds that we see from BFG and EVGA, we'd be willing to bet that even 7800 GS parts that don't come factory overclocked would have some head room. The EVGA card is clocked at core/mem clocks of 460/1.35, while the BFG part runs at 400/1.25. It is interesting to note that the BFG part makes a bigger deal out of being overclocked on the box than the EVGA card, but either way, the 7800 GS is no slouch.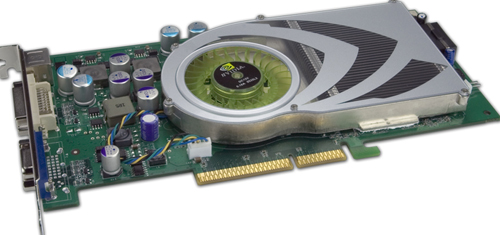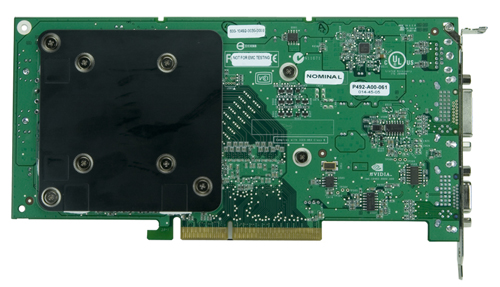 Our test system is configured as follows:
Gigabyte K8U-939 ULi based motherboard
AMD Athlon 64 FX-57
2x 1GB OCZ PC4000 RAM @ 200MHz 2:3:3:8
160GB Seagate 7200.7 HD
OCZ 600W PowerStream PSU
For reference, we have included the 7800 GTX 512 and the X1900 XTX. This gives us a clear look at the highest end ATI and NVIDIA hardware available for both the AGP and PCIe platforms. The 7800 GT is also included in order to show us the performance of the next fastest NVIDIA part out there.
Here's a breakdown of the 7800 GS specifications as outlined by NVIDIA.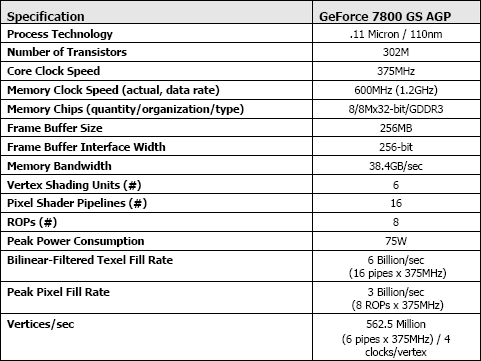 Comparing this to the 7800 GT indicates that we will have less fillrate potential. The 7800 GT has 20 pixel pipelines, while the 7800 GS has only 16. In addition, the 7800 GT has 16 ROPs while the 7800 GS has only 8. This is still efficient from a shading standpoint, but drawing more pixels on the screen should have a larger impact on the 7800 GS than on the GT. Features like stencil/z ops, fill rate, and antialiasing will show decreased performance. Likewise, the 7800 GS is more powerful than the 6800 GS, which only has 12 pixel pipelines and 8 ROPs.