SQL Stress Tool Results
(
test description
)
Intel's pre-production Bensley system came out on top in this test, with a 14% lead over the Opteron 280 system. The 1066MHz front-side bus, no doubt, was required to achieve this result, along with the 2MB of L2 cache. Intel has always been competitive with AMD in this test, but was able to pick up an additional 4% this time around over their usual 10% lead.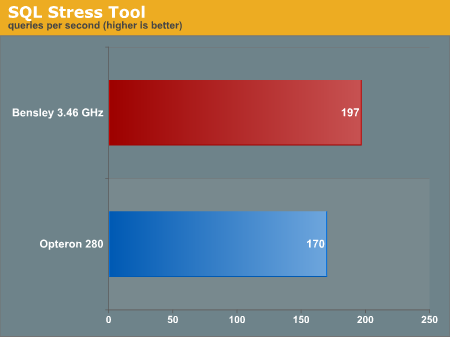 Order Entry Stress Test
(
test description
)
This enterprise test has been of great interest to a lot of people, including Intel. Opteron has constantly dominated this test, but times have changed. Bensley essentially tied with the Opteron 280 in this test, as the difference was about 3% (which is standard deviation). The new Blackford chipset architecture, increased front-side bus and memory bandwidth all played a part in Bensley showing this kind of improvement. Where Opteron used to show, on average, a 15% gain over Intel, they are now neck and neck.