Early this year, DFI took the world by storm with the introduction of their wildly popular nForce 4 boards, namely the Ultra-D, SLI-D and feature-laden SLI-DR. Since that time, these boards have proven to be exceptional enthusiast boards, providing myriads of overclocking options and adjustments with voltages for CPU, north bridge and in particular, the memory that allowed the end-user unlimited ability to overclock to their heart's desire. Gone were the days of voltage modifications and use of the programs, WPCredit and WPCrset, to take a board, CPU and memory to their limits. DFI, in one fell swoop, had brought overclocking to the masses, where once overclocking was for the knowledgeable few. Now, even the casual overclocker could overclock like an old pro.
DFI has updated this legendary overclocker's board with a large number of board revisions and component upgrades. DFI calls the result the LANParty UT SLI-DR Expert. We're here to find out if the upgrade is more than just words and clever marketing.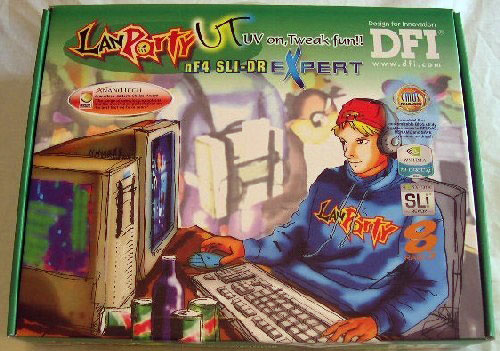 The most obvious change in the Expert was the new box graphics, which were introduced initially with the release of their ATI based RDX200 CF-DR motherboard. Of course, the nForce4 Expert is green and the ATI RDX200 is red. Packaging otherwise was familiar and much like other recent DFI boards.
Our evaluation of the Expert revision of the SLI-DR for this review will take a step away from the standard AnandTech review methodology and focus on the changes to the original SLI-DR, along with the new board's ability to overclock the CPU, HTT and memory. The original SLI-DR was reviewed as part of our " SLI Roundup"
here
in February and the complete suite of standard tests were run. The basic feature set has not changed on the Expert version of the board and all pertinent testing and results in regards to
Audio
,
Ethernet performance
,
Disk Controller performance
,
Firewire and USB throughput
remain valid for this revision and may be referred to if you want to know more about the performance of these features.
The idea with the introduction of this Expert revision is increased stability, overclockability and flexibility in working with different types of RAM modules, in particular Winbond BH-5/UTT and Samsung TCCD. That is what we will be testing.