4xAA/8xAF Performance Tests
This is a good option for gamers with a high end card. Generally, the best way to get a better experience from a game is going to be increasing resolution. This is especially true of FEAR because the performance hit of enabling 4xAA is incredibly large. Much of FEAR is designed well to avoid noticeable aliasing (low contrast edges), and the most noticeable edges in the game are high contrast shadows.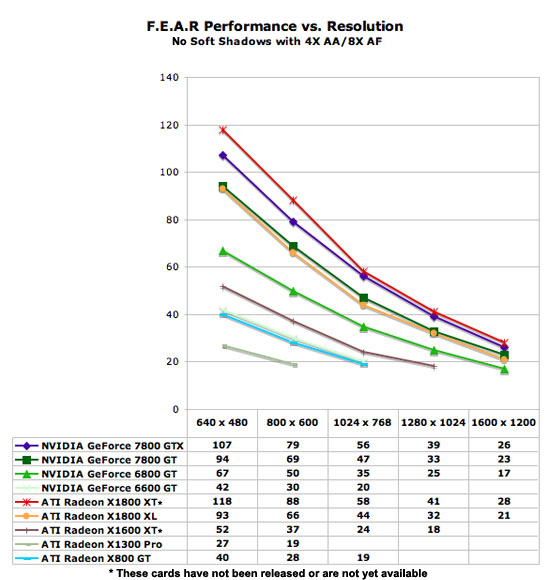 When we enable 4xAA and 8xAF, the higher resolutions take an even bigger performance hit than with soft shadows (as we will see soon). At 1600x1200, the framerates of the 7800 GTX and GT are cut in half, making the game less enjoyable to play. At 1280x960, the 7800 GTX gets 39 fps, and the 7800 GT gets 33 fps; both of these are playable. The X1800 XL gets 32 fps at this resolution, which would also be playable. At lower resolutions, the cards didn't take as big of a performance hit with AA as with soft shadows enabled. You can see that all of these cards are playable at 800x600 except for the X1300 PRO, which is borderline at 640x480 with AA. Let's also make it clear that we stopped testing performance at higher resolutions when framerates dropped below 20 fps. Performance that bad or worse is simply useless.