Gigaram 2GB Dual Channel PC-4200
Several weeks ago, we were contacted by a memory company called Gigaram to ask if we would be interested in reviewing their new 1GB modules. Since we were planning a review of the Corsair and OCZ 1GB DIMMs, it seemed a good fit to include Gigaram.
Who is Gigaram? Gigaram is a California based memory module manufacturer established in 1996. Founders were a team of engineers with over 12 years experience in the memory industry. Based on the current product offerings, which include a number of memory products targeted at the enthusiast, Gigaram is keenly interested in the Enthusiast and Gamer market.
If you would like to know more about them, you can start at their website,
www.gigaram.com
. Perhaps an even better indication that Gigaram is a serious player is that you can find their memory products for sale at New Egg, which is the largest E-tailer on the web.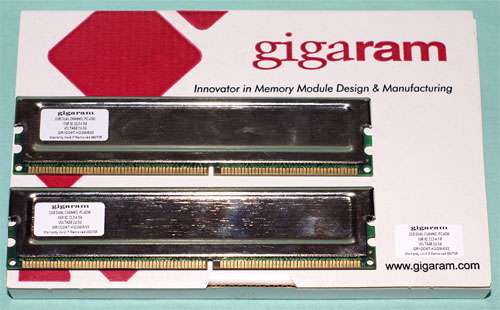 The Gigaram 1GB modules feature heatspreaders for cooling. The 2GB kit is rated at a fast DDR533 with the somewhat slow timings of 3-4-3-8.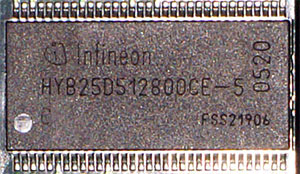 Under the heatspreaders, you will find Infineon memory chips again, just like the Corsair. In this case, the specific Infineon chip is the CE-5. With Infineon chips again, we were hopeful for faster memory timings than the conservatively rated 3-4-3-8.
Specifications
While also based on Infineon chips like the Corsair, Gigaram is rated at the much slower 3-4-3-8 timings, but at the much higher speed of DDR533. This is a higher rated speed than what we could reach with the Corsair memory, so either Gigaram is using different Infineon chips or the binning setup is quite different.
Gigaram 2GB Dual Channel PC-4200 Memory Specifications
Number of DIMMs & Banks
2 DS
DIMM Size
Total Memory
1GB
2GB
Rated Timings
3-4-3-8 at DDR533 at 2.9-3.0V
Rated Voltage
2.9-3.0V
Voltage is rated at 2.9V-3.0V - again, a much higher voltage rating than what we found with Infineon chips on the Corsair memory.
Test Results
Gigaram 2GB Dual Channel PC-4200 (DDR533) - 2x1GB Double-Bank
CPU Ratio at 2.4GHz
Memory
Speed
Memory Timings
& Voltage
Quake3
fps
Sandra UNBuffered
Sandra Standard
Buffered
Super PI 2M places
(time in sec)
Wolfenstein - Radar - Enemy Territory fps
12x200
400DDR
2-3-2-7
2.5V 1T
544.4
INT 2650
FLT 2808
INT 5953
FLT 5910
80
120.3
11x218
436DDR
2-3-2-7
2.7V 1T
550.9
INT 2806
FLT 2949
INT 6237
FLT 6177
80
121.4
10x240
480DDR
2.5-3-2-7
2.8V 1T
557.4
INT 2992
FLT 3025
INT 6445
FLT 6373
79
122.8
9x267
533DDR
3-3-3-7
2.9VV 1T
561.0
INT 3147
FLT 3383
INT 6665
FLT 6593
78
123.5
9x278
(2.45GHz)
Highest MEM Speed
556 DDR
3-4-3-7
3.0V 1T
569.1
INT 3296
FLT 3496
INT 6905
FLT 6855
76
124.9
To be considered stable for test purposes, Quake3 benchmark, UT2003 Demo, Super PI, Aquamark 3, and Comanche 4 had to complete without incident. Any of these, and in particular Super PI, will crash a less-than stable memory configuration.
The performance of the Gigaram 1GB modules was significantly better than what we expected from the published specifications. In every case, it met at least the memory timings of the much faster rated Corsair memory. Considering both are built with Infineon memory chips, this is not really a surprise.
However, the voltage that can be handled by the Gigaram 1GB memory is much higher than the Corsair DIMMs, and the Gigaram handles the higher voltages by providing better performance. That is not really a compliment, since the Corsair goes to about the same places everywhere (but the top) on the much lower 2.7V.
Since the voltage requirements and performance are quite different, we suspect that the Corsair and Gigaram use slightly different Infineon memory chips in their design. We have heard that manufacturers are using both C-5 and C-6 chips in their high-speed 1GB DIMMs, and we know Gigaram uses CE-6.
Considering that this is the first time that we have ever tested a Gigaram memory, we have to say that we are impressed. This memory clearly belongs in the same league with Corsair and OCZ, which is no small feat for a new memory company pushing into the High-Performance memory market. Time will tell if Gigaram delivers the same level of performance throughout their retail deliveries, but we certainly like what we tested.