Basic Features: Biostar TForce 6100-939
It is worth mentioning that Biostar is shipping TForce 6100 micro ATX boards in both Socket 754 and Socket 939 versions. The Socket 754 version, called the TForce 6100, is the same chipset combination and features 2 DIMM slots. The board that we are testing is the TForce 6100-939, obviously supporting Socket 939, and featuring four DIMMs in dual-channel mode. Older A64's, Revision E, and x2 are all supported on this Socket 939 board.
 Biostar TForce 6100-939
CPU Interface
Socket 939 Athlon 64
Chipset
NVIDIA GeForce6100 Northbridge - NVIDIA nForce 4100 Southbridge
Bus Speeds
200 to 300MHz in 1MHz Increments
PCIe Speeds
100 to 125MHz in 1MHz Increments
PCI
Fixed at 33
OnBoard GPU
Auto, Always Enable
Frame Buffer (UMA)
16M, 32M, 64M, 128M, Disabled (64M Default)
Core Voltage
Startup, 0.80V to 1.70V in 0.025V increments
CPU Clock Multiplier
Startup, 4x-25x in 1X increments
HyperTransport Frequency
1000MHz (1GHz)
Supports AMD Cool'n'Quiet
HyperTransport Multiplier
Auto, 1X, 2X, 3X, 4X, 5X
DRAM Voltage
2.66V, 2.72V, 2.82V, 2.93V
Memory Slots
Four 184-pin DDR DIMM Slots
Dual-Channel Configuration
Regular Unbuffered Memory to 4GB Total
Expansion Slots
1 PCIe x16
1 PCIe x1
2 PCI Slots
Onboard SATA/RAID
2 SATA II Drives by nForce 410 (RAID 0, 1, JBOD)
Onboard IDE/IDE RAID
Two Standard ATA133/100/66 (4 drives)
Onboard USB 2.0/IEEE-1394
8 USB 2.0 ports supported by nF410
No Firewire (Optional)
Onboard LAN
10/100 Ethernet by Realtek 8201 PNY
Onboard Audio
AC '97 2.3 6-Channel by Realtek ALC655
BIOS
Phoenix Award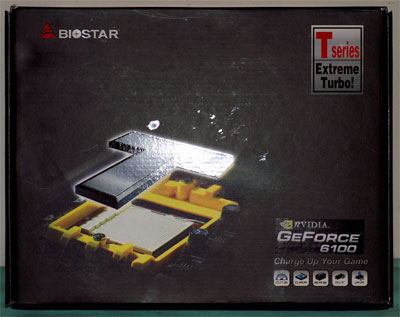 Frankly, Biostar even includes an overclock quick guide in the TForce kit - a real surprise for a Micro ATX board with integrated graphics. What's more, the available options in BIOS are a lot more than what many will expect for a Micro ATX/Integrated Graphics board, and even include an Integrated Flashing option so that you don't have to load DOS or Windows to flash the BIOS.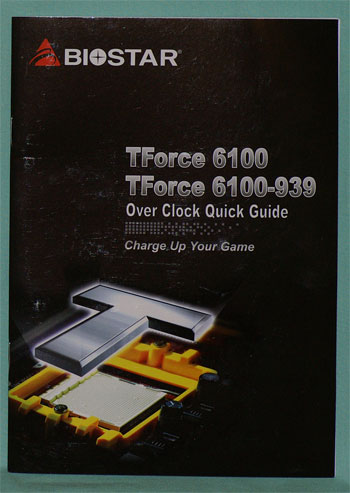 There is even an auto-overclocking option in BIOS, called ONE (Overclocking Navigator Engine) and a CMOS Reloaded feature to allow saving and quick restore of favorite BIOS setups. The only other place that we have seen CMOS reloaded is DFI.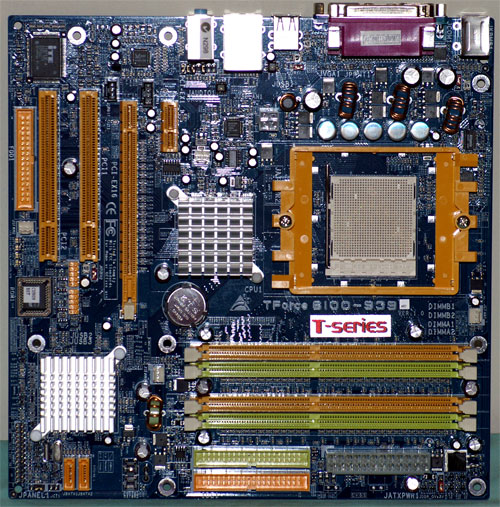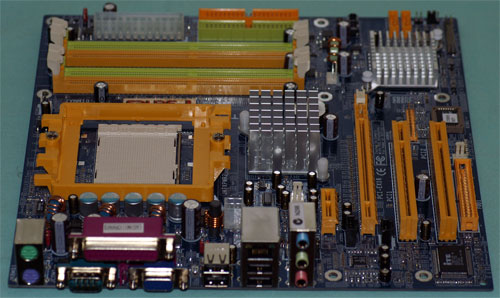 The layout is clean and the TForce 6100 even supports 24-pin power supplies. 20-pin connectors from older power supplies will also work. An even bigger surprise was momentary power and reset switches on the board - and detailed in the manual.