As the third largest motherboard maker in the world, ECS has always had the resources to pursue whatever direction they choose. In the past, that choice has been solid value motherboards, which provide quality and good value for the buyer. This has made ECS a major player in the Asian, South American, and European markets where tariffs and high prices relative to income make motherboards more relatively expensive than they are in the US. However, in the US market, ECS is often viewed as a low-cost, low-feature brand, and much of US sales come from the OEM market - ECS making motherboards and systems for others.
ECS has talked for some time about breaking new ground in the US market, and recently, they have also been hawking their Extreme series motherboards - boards designed with more of an eye to computer enthusiasts that still give great bang for the buck. We have said many times that it takes more than calling a board "Extreme" to make it so, but ECS has been improving the Extreme series and even won an
Editors Choice for the ECS PF4 915P Extreme
in last December's
Intel 915 roundup
. ECS keeps assuring the market that the change in direction for ECS is real, and to prove it, they invited AnandTech and about 20 other Editors to the very first ECS Editors Day in San Jose, California. The theme was the "New ECS".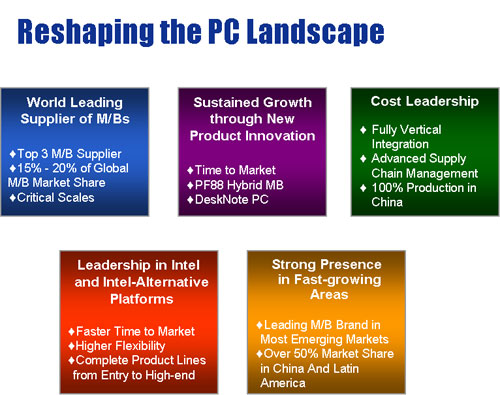 ECS was prepared with their own demonstrations of future products from the "new ECS", but they also showcased partner presentations from Intel, AMD, ATI, and NVIDIA. So, is the "new" ECS really any different from what we've seen in the past? What technologies from Intel, AMD, ATI and NVIDIA will be finding their way to future ECS products?