16x +R - MCC 004
Our 16x DVD+R tests are performed the same way with Verbatim brand media.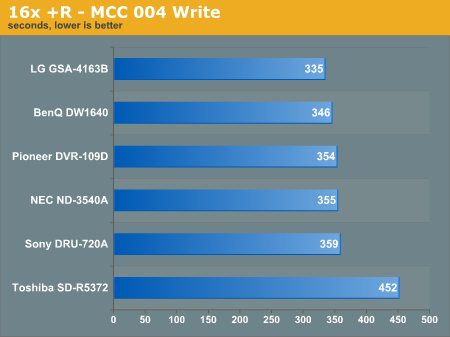 The GSA-4163B takes 1st place again as it writes a full DVD+R disc in 335 seconds with the DW1640 following this time at 346 seconds. The top two leaders from our last roundup, NEC and Pioneer, came in at 3rd and fourth places with a write time of 354 seconds.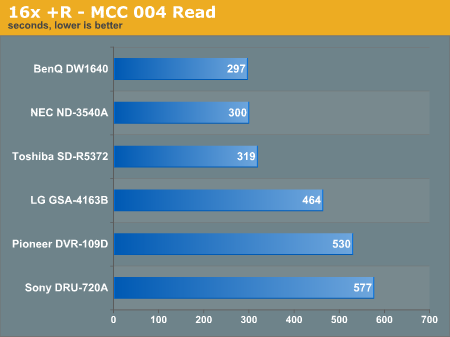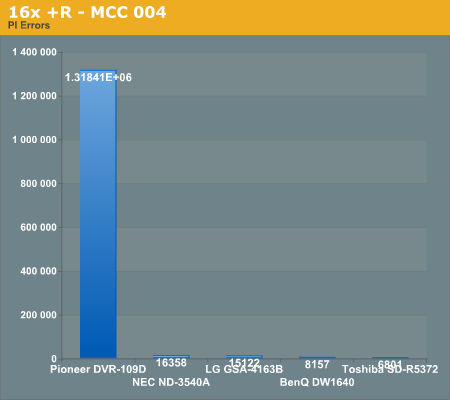 The DVR-109D produced an unbelievable amount of PI errors on disc, about 1.3 million. We couldn't believe that the unit could even read back the disc successfully on its own. So far, however, there doesn't seem to be any tight correlation between this drive's PI errors and the ability to read back a disc.
We have created ZIP files of the screenshots that we have taken of the Nero CD-DVD Speed and PlexTools benchmarks. Feel free to click on the links below to download them.
BenQ DW1640
LG GSA-4163B
NEC ND-3540A
Pioneer DVR-109D
Sony DRU-720A
Toshiba SD-R5372