This is the first year that we have covered Apple's World Wide Developer Conference (WWDC) keynote, but it will definitely not be the last.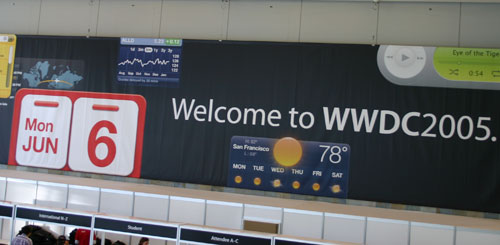 Over 3800 developers will attend this year's WWDC, making it similar in size to IDF from a couple of years ago.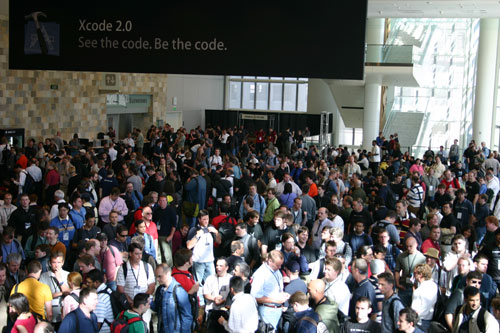 Hosted in the Moscone West Convention Center, the same venue as Intel's IDF just a few months prior, Apple made the most ground-breaking announcement in their history - the move to Intel processors starting in 2006 and almost complete by 2007. The crowd was already expecting what was to come: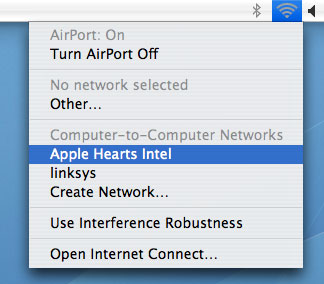 Despite the expectations, the announcement was still quite shocking. Even I found myself feeling shocked by the announcement that the rumors, in fact, were real.
Before we get to the details of Apple's Intel transition, here are some of the highlights from the start of the keynote:
Steve Jobs demo'd iTunes 4.9 with support for Podcasting. The support is quite widespread throughout the new version of iTunes and in Apple's usual style, it is quite easy to use.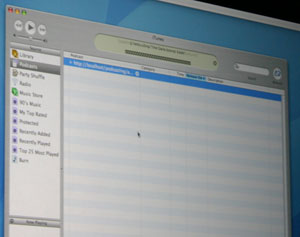 iTunes 4.9 Playing a Podcast
Later today, Apple will be previewing Quicktime 7, with H.264 support, for Windows PCs. The preview version will be available for download today.
Also, later this week, Apple will have shipped their 2 million
th
copy of Tiger, which has been shipping for 6 weeks now and has 16% of all Mac OS market share: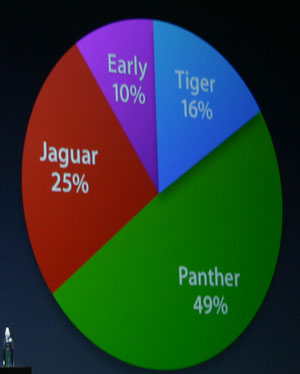 Although Steve Jobs didn't go into much detail, he did announce that the next version of the Mac OS would be Mac OS X 10.5, codenamed Leopard. Leopard won't be talked about at the conference this year, but it will next year. The OS will ship sometime in late 2006 or early 2007, around the same time as Longhorn.