64-bit Far Cry Performance
For the most part, 32-bit games run at the same speed or slightly slower under x64 Edition compared to 32-bit Windows XP Professional. And from what we've seen with titles that have native 64-bit binaries (e.g. Chronicles of Riddick), there aren't any real performance gains to be had there either. In order to find out if Far Cry was any different, we looked at two separate platforms: an AMD Athlon 64 X2 4200+ and an Intel Pentium D 3.2GHz. All benchmarks were conducted with an ATI Radeon X850 XT and at 1024x768 with Very High quality settings enabled.
We compared performance under 32-bit Windows XP, as well as x64 Edition, while running both 32-bit and 64-bit versions of Far Cry under the latter. We used our standard Far Cry demo that we've used in all other reviews, and in order to isolate the performance differences from the extra content, we only looked at performance changes with the first 64-bit patch installed - not the Exclusive Content Update.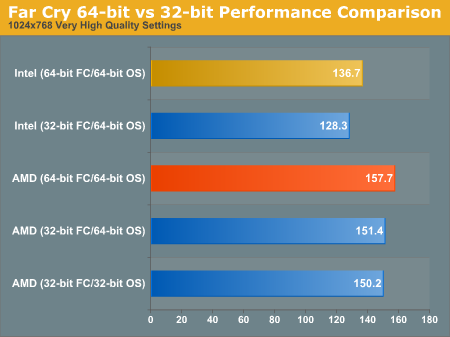 First, we see that the difference between running the 32-bit binary in XP Professional and x64 Edition is basically nothing. Next, there's a modest performance gain seen by the Athlon 64 X2 when using the 64-bit binary - we see a boost of 4%. Note that this sort of a performance improvement isn't noticeable at all to the end user, but there is a numerical advantage.
Interestingly enough, Intel actually does a little better - showing a 6.5% increase in performance. It's tough to say exactly why Intel gets more of a performance boost here, other than assuming that for whatever reason, Intel is facing more register pressure in our particular benchmark.
We're just happy that there is any sort of performance improvement at all - but to those looking for major increases in performance by moving to 64-bits, it's less and less likely to happen.