SPEC - Per-Core Performance under Load
A metric that is actually more interesting than isolated single-thread performance, is actually per-thread performance in a fully loaded system. This actually is a measurement and benchmark figure that would greatly interest enterprises and customers which are running software or workloads that are possibly licensed on a per-core basis, or simply workloads that require a certain level of per-thread service level agreement in terms of performance.
It's also here where AMD's new low-core count SKUs are extremely interesting, allowing to really distinguish themselves: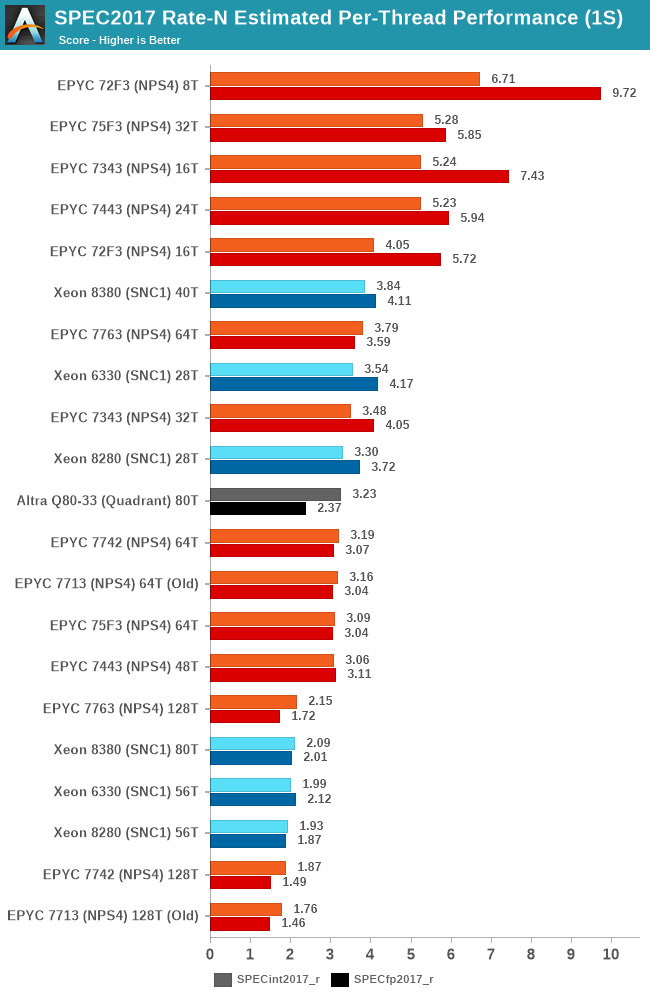 Starting off with the EPYC 7343 and the 7443, what's really interesting to see here is that they're both well keeping up with the more expensive 75F3 SKU in terms of per-thread performance. The EPYC 7343 actually outperforms the 7443 in the FP test suite because it has 33% less cores to share the L3 cache, and 50% less cores it has to share the DRAM resources against.
The 72F3 here also showcases its extreme positioning in the SKU stack, having the full 32MB L3 dedicated to a single core, and with the full 8-channel DRAM resources shared only amongst 8 cores, it results it outstandingly good per-thread performance. The chip when running 2 threads per core actually still outperforms the per-thread performance of other higher density core count SKUs running only 1 thread per core.
A good visualisation of the socket throughput versus per-thread performance metrics is plotting the various datapoints in a chart on those two axes: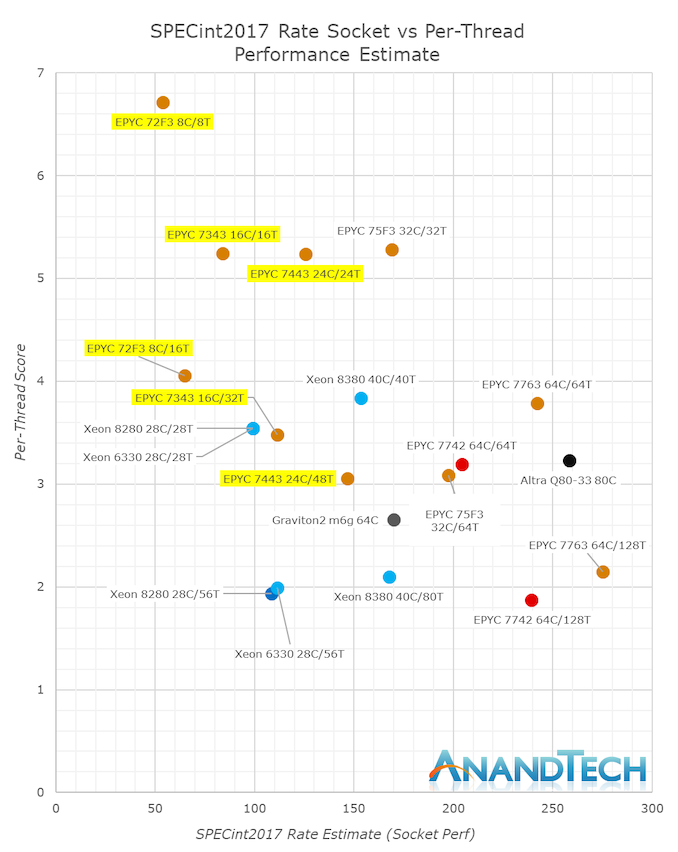 For today's review, the 7763 and 75F3 move further to the right and higher than they were before, while the new 7443 and 7343 showcase a quite stark competitive situation against Intel's Xeon 6330.
The Xeon 6330 costs $1894, while the 7443 and 7343 respectively land in at $2010 and $1563. In terms of socket throughput, the Intel chip roughly matches the 16-core AMD counterpart, while the AMD chip is showcasing 48-75% better performance per thread. The 24-core 7443 showcases 26-32% more socket performance while also at the same time having 47-54% better per-thread performance, while only being priced 6% higher. It seems that it's clear which designs provide the better value.