Gaming Multitasking Scenario
Our gaming multitasking test basically performs all of the tasks from our first Multitasking Scenario, with the exception of DVD Shrink.  We have Firefox loaded with all 13 tabs from our new suite test, iTunes is running and playing a playlist, and Newsleecher is downloading headers.  We kept Newsleecher in this test simply because it's the best way for us to be able to have a fairly CPU/disk intensive downloading task running in the background while still maintaining some semblance of repeatability.  So, replace Newsleecher with BitTorrent or any other resource-consuming downloading that you may be doing and you're good to go. Note that although we refer to Newsleecher as disk-intensive, it isn't that disk intensive at all, like most downloading operations, in the grand scheme of things; it just acts as a good real world background task to have running.
Of course, Norton AntiVirus 2004 and Microsoft's AntiSpyware Beta were also running in the background. 
First, we ran our Doom 3 benchmark: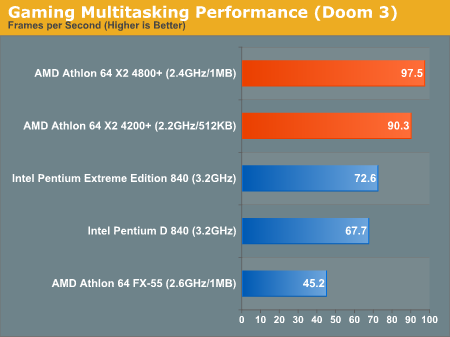 AMD has always been extremely strong in gaming performance; thus, the results above are no surprise at all. It is worth pointing out that when multitasking is involved, even Intel's dual core CPUs end up being faster than the fastest single core Athlon 64 FX-55.
Next up is Splinter Cell: