To me, the biggest attraction to Dashboard is the fact that you move very useful items off of your desktop and onto basically a separate desktop that is very easy to access.  Apple provides a total of 14 widgets with Tiger (and a link to download many, many more) and they also provide excellent documentation for developers to make their own widgets.  Here are the widgets that are included in Tiger:
Address Book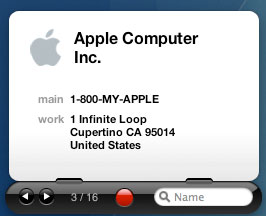 The Address Book widget is a front end to Tiger's Address Book application.  I am not yet organized enough on my Mac to make extensive use of the Address Book (although, now with the ability to sync up my Blackberry, I probably will). The widget saves you the desktop space of having the Address Book application open.  Simply bring up the Dashboard and you can flip through all of your contacts, and if you need to, just hit the red button to exit the Dashboard and open the actual Address Book application.  You can search through your address book using the widget and do just about everything else other than add new contacts - for that you have to actually open the Address Book application.  This widget is particularly useful to browse for a contact while on the phone, or if you have already a ton of windows open and organized the way that you'd like them and don't feel like adding another application to the mix just to get a contact.  I'd say that it would be a useful widget if I used the Address Book more often.
Calculator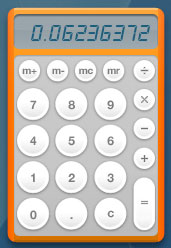 The Calculator widget is pretty self-explanatory; for a person who uses the calculator a lot, this widget is very useful.  The Calculator application in Tiger is improved, but it is nice to have access to a simple four-function calculator that doesn't eat up any desktop space. 
Calendar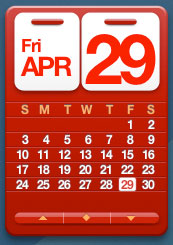 I'm a very big fan of the Calendar widget, simply because I'm always in a situation where I need to know the day of the week on which a particular date falls.  Whether it's for planning articles or planning a trip, I'm always having to open up the Calendar application just to get a look at the monthly calendar - not for my agenda, meetings or other appointments, but just so that I can get an idea of what the month looks like.  The Calendar widget solves that problem, and it does it quite well.
As a Windows user, I always found myself clicking on the clock in the Taskbar to bring up a calendar for this very purpose, so I have extra appreciation for this particular widget.
Dictionary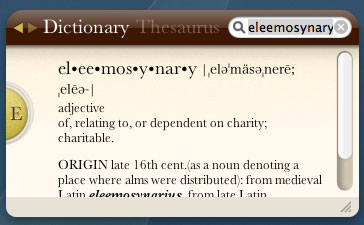 Powered by the Oxford American Dictionaries, the Dictionary/Thesaurus widget does exactly what you'd expect it to: type in a word, hit enter and you get its definition or a list of synonyms depending on whether you have selected Dictionary or Thesaurus.  Both databases are quite complete, and the layout of the information is actually done very well.  As a writer, this is one widget that I definitely find myself appreciating - basically, it saves me a trip to dictionary.com.
Flight Tracker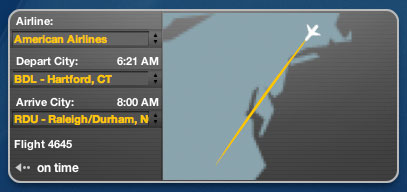 The travelers out there (or those who find themselves picking people up at the airport all the time) will appreciate the Flight Tracker widget.  As with all of the widgets, its name is self-explanatory.  You select (or input) the airline that interests you, the departure and arrival cities, and Flight Tracker will connect to Flytecomm's database and return a listing of all of the flights that match your search criteria.  You can find out if a flight is on schedule, delayed or canceled, as well as track a specific flight and get a visual representation of where that flight is on a map.
iTunes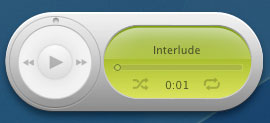 The iTunes widget is interesting; it gives you basic playback controls for your current iTunes playlist and tells you what song is currently playing.  But since you have to have iTunes running for the widget to interact with it (obviously), I generally find myself using the actual iTunes application itself.  I am also not one to make extensive use of iTunes playlists - I usually search for the song that I'm interested in listening at the time (or the album) and start from there - so this particular widget may be more useful to a more normal iTunes user.  That being said, I do appreciate its size a lot more than the size of the iTunes application window, which is one benefit that this particular widget has brought to my usage patterns.
Phone Book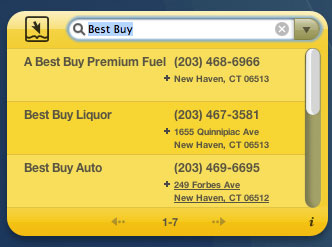 Another web-driven widget, the Phone Book asks you for your zip code and how large of a search radius that you want and you can search the yellow pages.  You can either search by category or by name, and once more, this is one of those widgets that saves you a trip to a website.
Stickies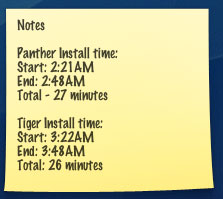 The Stickies widget lets you place virtual sticky notes on your Dashboard.  Stickies aren't a new part of the Mac OS, but I've never really found them to be too useful for my needs - although I'm sure that others have.  So, this would go down as one of my least used widgets, but if I ever broke out of the habit of using text files as my notepads when writing down temporary information, I'm sure that the Stickies widget would come in handy.
Stocks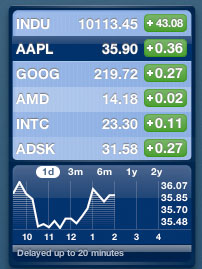 If you're a trader or just curious to how the market is doing, the Stocks widget is pretty useful.  In its settings, you specify what stocks you want to track and the widget will handle the rest. 
The graphing capabilities aren't anything too impressive though, as you have no option for a weekly graph.  The data is all pulled from Quote.com.
Tile Game
Quite possibly the most useless widget to me is the Tile Game. I guess that's just not the type of gaming I'm into.  But for those who do enjoy it, the Tile Game widget is interesting, although it goes against what seems to be one of the major purposes of the Dashboard - for items that require very little interaction/just a quick glance. 
Translation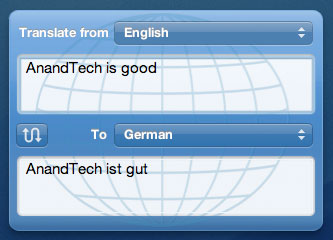 Using the Translation widget, you can translate to/from the following languages:
Chinese (simplified), Chinese (traditional), Dutch, English, French, German, Greek, Italian, Japanese, Korean, Portuguese, Russian and Spanish.  Unfortunately, I'm not fluent in all of those languages, so I can't attest to how accurate of a widget it is, but it seemed to handle English to German translation relatively well. 
You can type in words or paste full paragraphs, although there is a 40-word limit. So, if you're looking to translate an entire paper, you're going to have to use something else.
Unit Converter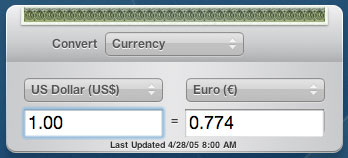 The unit converter widget will convert any of the following types of units: area, currency, energy, temperature, time, length, weight, speed, pressure, power and volume.  The currency conversion is powered by Quote.com, so the conversions are based on up-to-date trading values.
Weather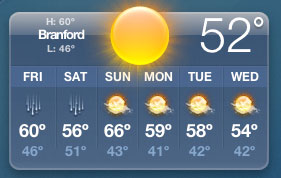 One of my most frequently used widgets is the Weather widget, which gives you the high and low for the present day as well as a 6-day forecast from AccuWeather.com. 
World Clock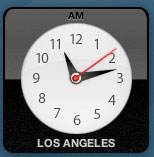 The final widget included with Tiger is the World Clock. It can tell time based on continent and city, although only as an analog clock (which is slightly annoying).   The face of the clock will turn from white to black depending on whether the time depicted is during the day or evening. 
For me, I use Dashboard on a very regular basis - I'd say that I probably use it more than any of the new features in Tiger, since I always check in with widgets on the Dashboard multiple times throughout the day.  If Apple's goal with Dashboard was to reduce desktop clutter and improve productivity in the sense that you don't have to waste time getting information and utilities from various websites, then Dashboard is an astounding success.
Dashboard isn't entirely flawless. Like many aspects of Tiger, there are some annoyances with Dashboard.  My major issue with Dashboard is mostly visible on the PowerBook, where I'm not always connected to the Internet.  My problem is that none of the data in any of the Dashboard widgets appears to be cached, so when you hit F12 on the PowerBook, there is a very annoying delay where all of the widgets that rely on an active Internet connection for their data (e.g. most of them) appear blank for a few seconds.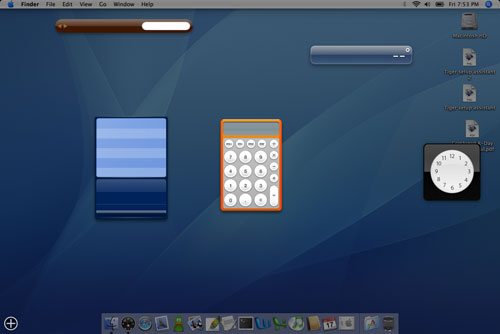 This is the result when hitting F12 on the PowerBook during the first few seconds of coming out of its slumber.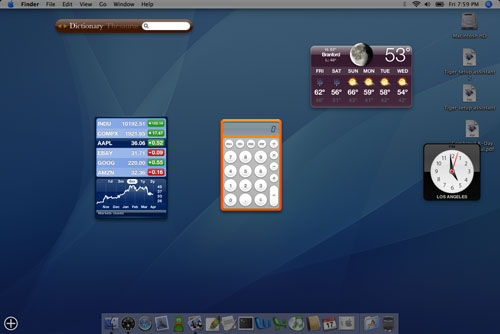 After a few seconds, this finally appears. Note how the name of the Dictionary/Thesaurus widget doesn't actually appear until now.
Also during this period while Dashboard attempts to update all of the active widgets, you may have the desire to just go back to your desktop, which isn't always possible. Hitting F12 immediately after looking at the Dashboard and finding nothing but blank widgets won't always work.  Most of the time, you have to wait a few seconds before you regain control  over that aspect of your system.  I have to reiterate that these issues are only visible on the PowerBook; on a desktop that's always on (or a PowerBook that is always connected to the Internet and doesn't go to sleep), the Dashboard data is never touched and the widgets always remain full of information. 
Some of the widgets will still have to update themselves after you have pressed F12, even if you are currently connected to the Internet. It appears that although the widgets are always loaded in memory, they don't eat up any CPU time; meaning that they don't constantly remain updated while Dashboard is inactive.  For example, my computer remains on while I sleep, and when I get up in the morning, one of the first things that I do is bring up the Dashboard to check the Weather widget to find out how cold it's going to be in CT today.  For the first second or so, the weather still reads as yesterday's temperatures, before it updates itself and displays today's forecast.  The same applies to the clocks; even while regularly using the computer, the Clock widgets don't constantly update themselves. So, when I hit F12, the clocks take a second or two to update before displaying the correct time for whatever time zone that I have them set.  I guess in the end, I would rather not have the Dashboard impact performance elsewhere in the system by dedicating CPU resources to updating each and every widget, but if there was a way around these issues without impacting the experience in the rest of the OS, it would be nice to see that implemented.  Maybe Apple will need to move to dual core dual G5s so that one of the four cores can be used to keep Dashboard updated at all times.