Multitasking Scenario 4: 3D Rendering
We received several requests for a 3D rendering multitasking test, so we put one together. For this test, we ran our SPECapc 3ds max 6 benchmark while we had iTunes, Firefox and Newsleecher all running like we have in previous tests. The application focus remained on Firefox to give it the highest scheduler priority, and the results are below: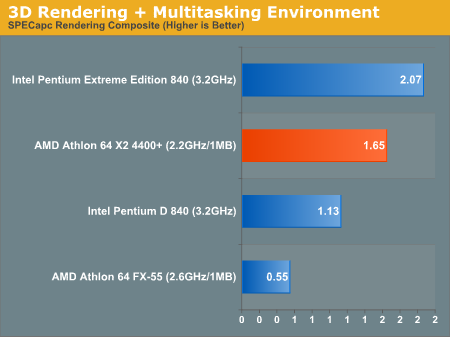 Once again, we have one of those situations where the Athlon 64 X2 4400+ is more than twice as fast as the Athlon 64 FX-55. 3ds max is actually one of the best ways to guarantee that you exploit problems with Windows' scheduler in a repeatable fashion. In fact, part of the reason for such huge performance gains for AMD in SYSMark 2004 is this exact type of scenario caused by 3ds max not allowing the Windows scheduler to preempt other running tasks properly. The result here is that single core systems are basically horrendous in performance and system response, while all of the dual core systems actually let you get work done.
What's also interesting is that the performance of the Athlon 64 X2 4400+ is virtually identical with the Athlon 64 FX-55 from our standalone 3ds max test (1.65 vs 1.66). In this benchmark, the Pentium Extreme Edition 840 takes a pretty significant lead, thanks to HT. We see that even with a dual core CPU, there are still some issues to overcome with the OS' scheduler. So, we get an unusually large increase in performance due to HT due to the scheduler being tricked into sending more threads to the CPU rather than attempting to have them preempt one another for CPU time.