Business Application Performance
Business Winstone 2004
Business Winstone 2004 tests the following applications in various usage scenarios:
Microsoft Access 2002
Microsoft Excel 2002
Microsoft FrontPage 2002
Microsoft Outlook 2002
Microsoft PowerPoint 2002
Microsoft Project 2002
Microsoft Word 2002
Norton AntiVirus Professional Edition 2003
WinZip 8.1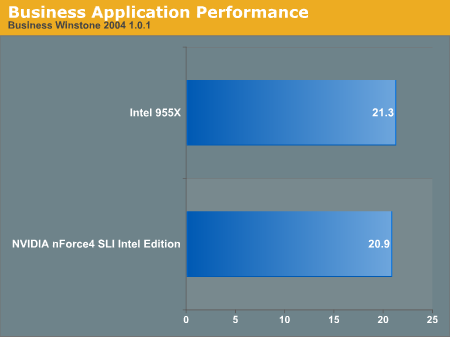 NVIDIA is normally the strongest performer in Business Winstone, but here, the nForce4 takes a close backseat to Intel's 955X. The two basically perform the same.
Office Productivity SYSMark 2004
SYSMark's Office Productivity suite consists of three tests, the first of which is the Communication test. The Communication test consists of the following:
"The user receives an email in Outlook 2002 that contains a collection of documents in a zip file. The user reviews his email and updates his calendar while VirusScan 7.0 scans the system. The corporate web site is viewed in Internet Explorer 6.0. Finally, Internet Explorer is used to look at samples of the web pages and documents created during the scenario."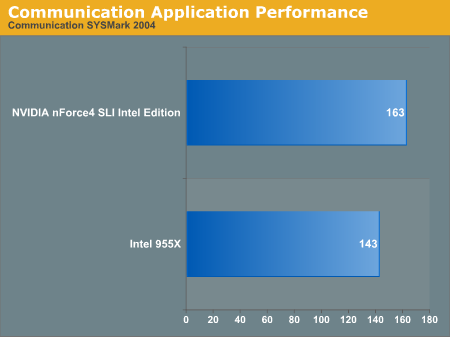 The next test is Document Creation performance:
"The user edits the document using Word 2002. He transcribes an audio file into a document using Dragon NaturallySpeaking 6. Once the document has all the necessary pieces in place, the user changes it into a portable format for easy and secure distribution using Acrobat 5.0.5. The user creates a marketing presentation in PowerPoint 2002 and adds elements to a slide show template."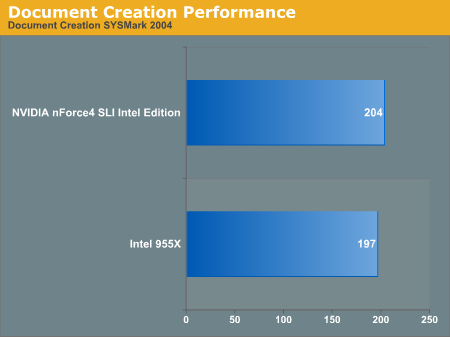 The final test in our Office Productivity suite is Data Analysis, which BAPCo describes as:
"The user opens a database using Access 2002 and runs some queries. A collection of documents are archived using WinZip 8.1. The queries' results are imported into a spreadsheet using Excel 2002 and are used to generate graphical charts."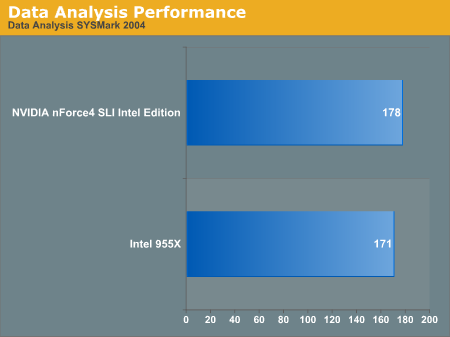 NVIDIA is actually slightly stronger than Intel in the Office Productivity suite of SYSMark 2004. In the communication tests, we see that NVIDIA actually holds a 13% performance advantage. Given that the communication suite is particularly disk intensive, we will look at SATA controller performance later on in this article to see if NVIDIA possibly has a stronger SATA controller.