Kingston KVR400X64C3AK2/1G
Kingston's second Value RAM was the most reasonable RAM in our roundup. We found KVR400X64C3AK2/1G available at several Internet dealers for around $100. While we were testing for this roundup, we also saw this Kingston CAS3 Value RAM on sale at one web retailer for $91 for a Gigabyte of memory. This is a high volume, readily available Kingston product that also performs much better than you might expect from the price and specifications.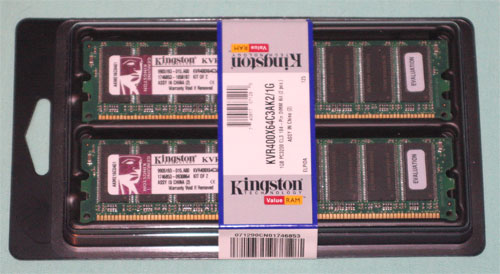 Kingston KVR400X64C3AK2/1G is supplied as a 1GB kit consisting of 2 512MB double-sided DIMMs. It is designed as a low-cost dual-channel memory kit.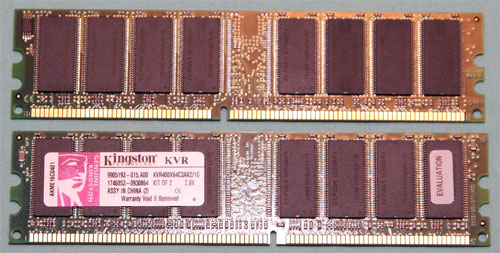 Like the Kingston CAS 2.5 Value RAM, there are no heatspreaders on the DIMM modules. The memory chips are Elpida, which we have seen used in a few other DDR400 memory products.
Specifications
The KVR400X64C3AK2/1G is rated by Kingston at CAS 3 and we found the automatic SPD timings to be 3-3-3-8 at stock voltage. These are not particularly exciting timings - even for a Value RAM.
 Kingston KVR400X64C3AK2/1G (DDR400) Memory Specifications
Number of DIMMs & Banks
2 DS
DIMM Size
Total Memory
512 MB
1GB
Rated Timings
3-3-3 at DDR400
SPD (Auto) Timings
3-3-3-8
Rated Voltage
2.6V
As you will see in our timings below, however, it is definitely worth your effort to set timings manually for this low-priced Kingston Value RAM, as it is capable of decent performance and overclocking, especially considering its value price.
Test Results
Kingston KVR400X64C3AK2/1G (DDR400) - 2 x 512Mb Double-Bank
CPU Ratio at 2.4GHz
Memory
Speed
Memory Timings
& Voltage
Quake3
fps
Sandra UNBuffered
Sandra Standard
Buffered
Super PI 2M places
(time in sec)
Wolfenstein - Radar - Enemy Territory fps
12x200
400 DDR
2.5-3-3-6
2.6V 1T
530.2
INT 2586
FLT 2748
INT 6057
FLT 6023
83
111.7
11x218
436 DDR
3-3-3-6
2.7V 1T
531.6
INT 2706
FLT 3927
INT 6425
FLT 6354
82
112.0
12x225
(2.83GHz)
Highest CPU/Mem Performance
3-3-3-7
2.9V 1T
580.8
INT 2831
FLT 3023
INT 6772
FLT 6719
74
124.0
To be considered stable for test purposes, Quake3 benchmark, UT2003 Demo, Super PI, Aquamark 3, and Comanche 4 had to complete without incident. Any of these, and in particular Super PI, will crash a less-than stable memory configuration.
The Kingston CAS 3 is significantly cheaper than the CAS 2.5, but it also performed fine at CAS 2.5 at the stock DDR400 at standard voltage. Even more important for some, the KVR400X64C3AK2/1G had excellent head room, as it was able to reach DDR450 at voltages available on many motherboards. At $91 to $100 for a matched pair of 512MB DIMMs, this Kingston kit is an outstanding value.
Aida 32 has been useful in the past in examining read/write performance and memory latency. Aida 32 is now available as Everest Home Edition, a free download from
www.lavalys.com
.
Kingston KVR400X64C25/512 (DDR400) 2x512Mb Double-Bank
Everest 1.51
CPU Ratio at 2.4GHz
Memory Speed
Memory Timings
& Voltage
Everest READ
MB/s
Everest WRITE
MB/s
Everest Latency
ns
12x200
400 DDR
2.5-3-3-6
2.6V 1T
5750
1872
47.2
11x218
436 DDR
3-3-3-6
2.7V 1T
6030
1974
48.7
12x225
(2.7GHz)
Highest CPU/Mem Performance
3-3-3-6
2.9V 1T
6370
2083
47.2
With the somewhat limited range of DDR400 to DDR450 you will not see the kinds of memory read and write increases that we see in top-end memory. However, DDR450 represents a CPU clock of 225, or 12.5% over the base 200 speed. This is often fast enough on the Athlon 64 to allow you to reach the highest speed that your A64 CPU might reach at stock multiplier. In this case, we were able to take our 4000+ from a stock 2.4GHz to 2.7GHz with the memory keeping up. If you need to go even higher, memory multipliers can be lowered, but there is a memory performance penalty when dropping from 1:1 to a lower base memory speed.
All-in-all, the Kingston KVR400X64C3AK2/1G is a surprisingly good performer for memory that you can buy for about $100 per Gigabyte. The timings are not the fastest, but gaming performance at DDR400 is just 8% faster with the fastest 2-2-2 that we have tested at DDR400 (Quake 3 at 530.2 to 572.8, RTCW at 111.7 to 120.2). The real difference between this Value RAM and the expensive memory is at the top, where OCZ VX at top memory speeds can outperform this Kingston at top speed by 10% to as much as 21% in Gaming frame rates.