Audio Performance
Audio Performance is an area that we will be developing as we expand the new motherboard suite. We plan to provide Quality benchmarks and subjective listening to the more basic performance tests. For this SLI roundup, we limited audio testing to the Rightmark 3D Sound CPU utilization test. This benchmark measures the overhead or CPU utilization required by a codec or hardware audio chip.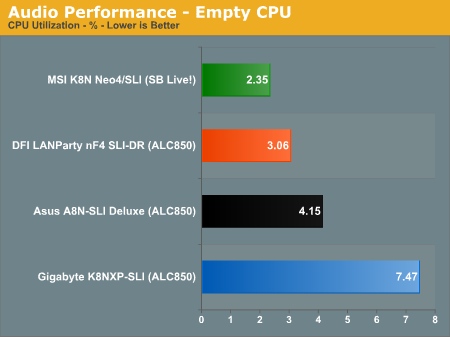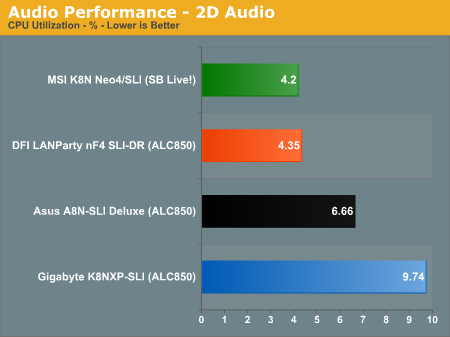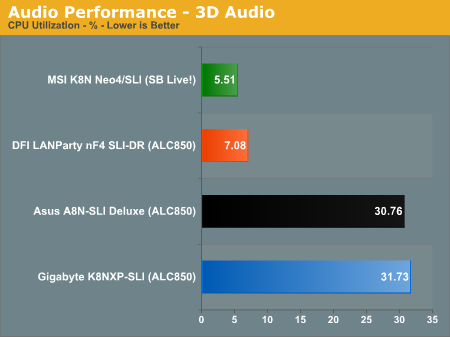 As you can see, there was at least one surprise in the test results. The MSI Creative SoundBlaster Live! Chip is touted as a 24-bit hardware solution by MSI, so we fully expected the low CPU utilization that we are seeing in the chart. The other 3 boards all use the Realtek ALC850 codec, so we expected CPU utilization results to be similar. As you will note, the Asus and Gigabyte are in fact similar, but the Karajan module used on the DFI is apparently doing an incredible job on that board. Using the same base Realtek 850, DFI has managed to drop CPU utilization to close to the levels of a hardware solution.
We have to congratulate MSI on their choice of Creative SoundBlaster Live! 24-bit for audio. Similarly, DFI deserves praise for their excellent design work on the Karajan module, which reduces overhead to such low levels compared to competing implementations of the same Realtek 850 codec.