Disk Controller Performance
With so many storage controllers on the nForce4 SLI boards, we needed a means of comparing performance of the wide variety of controllers. The logical choice was Anand's storage benchmark first described in
Q2 2004 Desktop Hard Drive Comparison: WD Raptor vs the World
. To refresh your memory, the iPeak test was designed to measure "pure" hard disk performance, and in this case, we kept the hard drive as consistent as possible while varying the hard drive controller. The idea is to measure the performance of a hard drive controller with a consistent hard drive. We played back Anand's raw files that recorded I/O operations when running a real world benchmark - in this case, the entire Winstone 2004 suite. Intel's IPEAK utility was then used to play back the trace of all the IO operations that take place during a single run of Business Winstone 2004 and MCC Winstone 2004. To try to isolate performance difference to the controllers that we were testing, we used Seagate 7200.7 model SATA and IDE hard drives for all tests.
iPeak gives a mean service time in milliseconds; in other words, the average time that each drive took to fulfill each IO operation. In order to make the data more understandable, we report the scores as an average number of IO operations per second so that
higher scores translate into better performance
. This number is meaningless as far as hard disk performance is concerned as it is just the number of IO operations completed in a second. However, the scores are useful for comparing "pure" performance of the storage controllers in this case.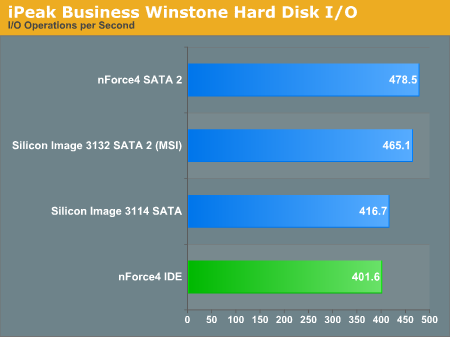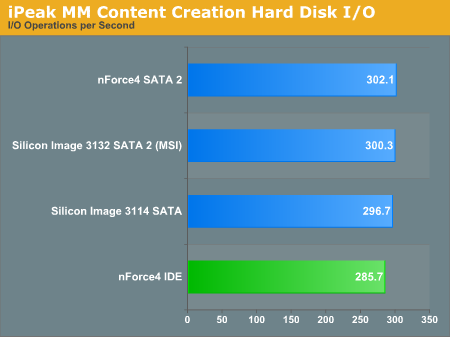 It is interesting that the performance patterns hold across both Multimedia Content IO and Business IO, with the on-board nVidia SATA 2 providing fastest IO, followed closely by the Silicon Image 3132 SATA 2 controller featured only on the MSI K8N Neo4/SLI. Please keep in mind that we are testing with SATA 1 drives, since we did not have SATA 2 drives available for testing, but we will test with SATA 2 in the future. Of course, SATA 2 throughput should theoretically be even faster.
The Silicon Image 3114 controller is only a bit slower in MM Content IO, but it is quite a bit slower in Business IO. The 3114 does uniquely feature RAID 3 capabilities and it is featured on 3 of the 4 SLI boards: the Asus, DFI, and Gigabyte.
IDE provided the slowest IO performance in this roundup, demonstrating that SATA controllers are finally starting to show a performance edge - at least in IO operations.
We plan to also include IDE RAID and SATA RAID benchmarks in our future motherboard tests, and comparing RAID performance on various controllers will definitely be a part of future motherboard tests.