System Management: Another Linux Success
Sun easily separates themselves from whitebox manufacturers with their management capabilities. The fact that Sun chose an embedded Linux platform as the nerve center of their server really only proves to sweeten the pie.
The MPC855T PowerPC – or Service Processor (SP) as it's more commonly called in this analysis – is in fact an entire embedded Linux computer of its own. Even when plugging in one of the managed power supplies, the SP kicks on and boots up. All management of the system is handled through this minicomputer: the serial console, front console, BIOS, fan speeds and even power draw. Even when the machine is off, the SP allows us to manage the status of the system, even if it has crashed, remotely or locally. In a worst case scenario, the SP can actually be rebooted from a hard switch in the rear of the machine.
Fortunately, Sun provided us with another block diagram to explain the inner workings of the Service Processor.
Given the versatility, and since it's always running, we can actually connect remotely to the SP via SSH and do things like update the BIOS, or perhaps just change some settings in it. This "Lights Out Management" approach is not a new concept, but Sun clearly has the most thorough implementation that we have yet to touch.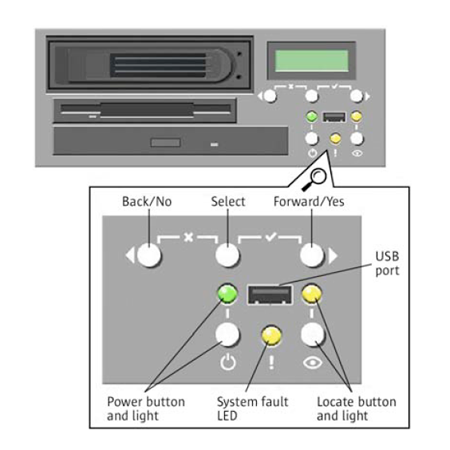 The console on the front of the server acts as our basic portal into the Service Processor. From here, we can view the status of individual components like the fan and temperature. All of our commands on the console are routed to the SP, which then decides what to do with them; for example, when we tell the machine to turn on via the forward console, the service processor (which is already on) hands off the instruction to the managed power supply to enable.
Overall, we were incredibly impressed with the thoroughness of Sun's Service Processor. Anything short of forgetting the BIOS password or replacing hardware will ensure that the system stays up. Considering that most of the tools used inside the SP environment are free and/or open sourced, it only adds further to its desirability as clever administrators could very easily expand on the SP's original functionality.